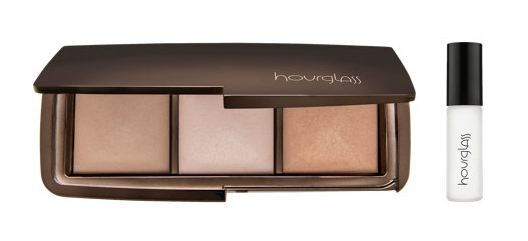 New Stuff: Hourglass Ambient Lighting Palette
Stock photo courtesy of barneys.com
Update 10/22: See my review of it here.
Update 10/1: It is, in fact, now available at sephora.com and is called the Hourglass Ambient Lighting Powder Wardrobe.
I was recently browsing a makeup forum and saw someone mention an upcoming palette of Hourglass Ambient Lighting Powders. Naturally I was immediately like a hound on the scent and had to go track it down. After some google searching, I came across a link to it on the Barneys website.  Apparently they had it on pre-sale over the weekend according to lola's secret beauty blog. Unfortunately it's not available right now, but I've got my fingers crossed that it'll be back up soon. So what is it anyway? According to the details on the Barneys product page:
A limited edition palette featuring three shades of Ambient Lighting Powder, the high-tech, soft-focus finishing powder that recreates exquisitely flattering light sources. Unit carton includes a 5-ml Veil Mineral Primer to ensure the perfect canvas.

NEW INCANDESCENT LIGHT
An opalescent pearl powder that brightens the complexion with a celestial glow.

DIM LIGHT
A neutral peach beige powder that blurs imperfections.

RADIANT LIGHT
A sun-kissed golden beige powder that adds warmth.

Style # 503065945
The retail price is listed as $58, but no product amounts are listed.
So here's why I'm excited about this. I already have two Hourglass Ambient Lighting Powders (reviewed here) and I love them. The only problem is, I kind of already have Dim, which is in the palette. BUT – if the powders in the palette are full size, then $58 is still a steal for the other two, which normally retail for $45 each. And then I could leave my Dim single at work for touchups. Right? If they're not full size, that might be another matter – it would depend on whether the two other shades (and the fact that one is possibly limited edition) are worth the price tag.
According to the Hourglass Cosmetics facebook page, the palette will be available at sephora.com and hourglasscosmetics.com on October 1st, and available in the UK in early November (I'm assuming at spacenk.com).