Review: Maybelline Color Elixir in Fuchsia Flourish
Not long after I started seeing promo pictures of the Dior Addict Fluid Sticks (which I still haven't tried, by the way) pop up online, I noticed these Maybelline thingies at the store. They looked suspiciously familiar – clear case that looks like a lipstick, silver top. Maybe they're getting their packaging from the same place? In any case I'm always curious about how these liquid "not quite lipstick, not quite gloss" things compare to each other, so I grabbed one of the Color Elixirs to try out.
Packaging
The product comes in a clear plastic tube that somewhat cleverly (or somewhat misleadingly, if you're not paying attention to the information on the display) looks like it has a regular lipstick inside. When you twist off the silver top, you find a triangular sponge applicator that's really similar to what you get with L'Oreal Aqua Lacquers or YSL Glossy Stains. My only gripe with the packaging is the amount of product you pull up on the wand – it tends to sort of slop out over the opening, which you can see in the photo. Otherwise it's totally functional.
Color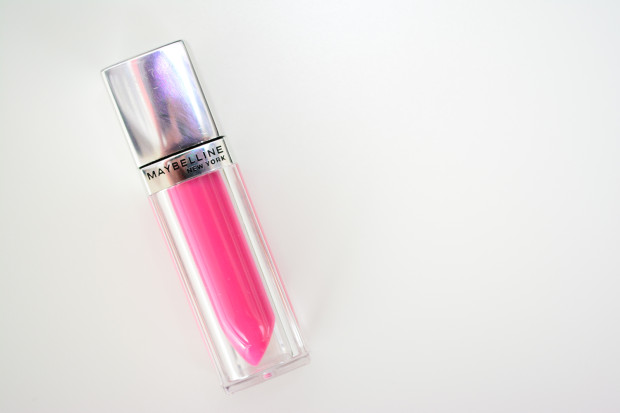 In the tube Fuchsia Flourish looks like a bright, slightly cool pink. On the lips, though, it shows up as a quite blue-toned fluorescent fuchsia that appeals pretty strongly to the 80's child in me. It's definitely what I'd describe as a loud color. I couldn't find any shimmers in this one, just lots of shine.
Application, texture & wear
I was mainly interested in how these compared to YSL Glossy Stains when I bought this one. The texture is much thicker, almost syrupy, and dries down with a slightly tacky feel. The Color Elixir is heavily pigmented – almost opaque in one pass. It has a very vinyl-like finish that tones down to just glossy after about an hour, or as soon as I eat or drink anything, whichever comes first. The color lasts about three hours with a stain that sticks around for another two or three. I didn't have any issues with bleeding, but it did wear off a little bit unevenly, with the corners disappearing first. When you first open it there's a fairly strong vanilla-y scent, but I could detect a chemical smell underneath that. Unfortunately the vanilla wears off fairly soon, and the chemical smell doesn't. It's very noticeable and affected the taste of my food and drinks for a couple hours. If you're bothered by weird smells, this is not for you.
In Short: It has a really interesting finish, but keeping that freshly-applied look is pretty high-maintenance. The smell is a deal-breaker for me though.
Maybelline Color Elixirs ($6.99) are available at target.com