Fashion Friday: Cate & Chloe VIP
[cf-shortcode plugin="acf" field="press_sample"][cf-shortcode plugin="acf" field="affiliate_link"]
I've finally got most of my wardrobe sorted out after my epic clothes haul a couple weeks ago. The jeans are still at the tailor's so they can be converted to 'fun size' (as one of my friends so eloquently put it), and I'm antsy to get them back and actually wear them. In the meantime I can already tell the LOFT skirt and black Caslon tank are going to become a staple duo – it's the next best thing to wearing pajamas to work. And yes, I do intend to continue my mostly monochrome wardrobe year-round!
The one thing I sort of neglected on that trip was accessories (aside from a watch), because I didn't really find anything I liked. That could be partially due to me not having any freakin' clue what I wanted – that's just a guess though. Fortunately I've been offered a chance to try out the Cate & Chloe VIP membership, where you get sent two pieces of their jewelry per month. Anything that saves me the trouble of trying to choose my own accessories is ok in my book! Plus, I have some kind of mental block against buying nicer jewelry – the drawer full of orphan earrings may have something to do with that. However, if you're looking to expand your jewelry collection, then check out Art Deco Jewelry – Museum of Jewelry or similar stores.
The VIP subscription is $39.99/month (or less, if you get 3, 6, or 12 months at a time), so it's kind of a steal when you compare it to their regular prices. You can see the full information for the VIP membership here, but to save you a click, here are the highlights:
Two items per month (retail $200+); one is sent on the first day of the month, and the next is on the 15th day
One of the items is a pre-release VIP exclusive
Free gift during your first month
Shipping is included in the cost of the subscription, and you also get free shipping on other Cate & Chloe orders
20% off additional purchases
Exchanges of items you don't fall in love with (which is unique in the subscription world, at least as far as I know)
The million dollar forty dollar question is, is the jewelry actually any good?
For the first month's free gift, I got the Diana "Divine" necklace. The packaging was lovely – a cute black pillow box tied with a white ribbon, which definitely appealed to my love of minimalist design. It also contained info about the VIP membership, and a card to tell me all the specifics about the jewelry I got. If you want some ideas for your wardrobe, visit http://jumeirahroad.com/ and check their vast catalogue.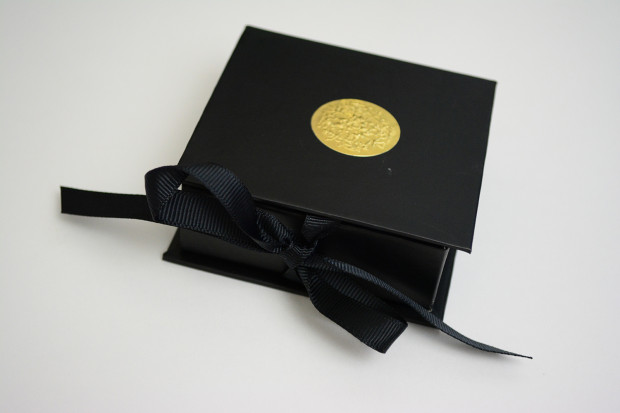 On the inside I found a gift box tied with ribbon (this might get reused), which held the necklace. The pendant is a pear-cut 3ct cubic zirconia surrounded by smaller stones, on an 18″ sterling silver chain. Here's a closer look:
I was thrilled to get something in silver, since I really don't like yellow gold, but I have to admit that when I first opened the box I wasn't really sure this is something I would wear. My accessories are typically chunky instead of delicate, and not a bit of bling among them aside from the CZ studs that are pretty much permanently attached to my ears. But… I am trying to break out of a jewelry rut, after all, so I decided to give it a shot.
I'm really impressed with the overall quality of the necklace. There are no messy-looking joins in the setting, and the CZ is cut for lots of sparkle. The chain has a lobster clasp and 2″ of extender links so you can shorten it a bit to complement the neckline of your shirt. The extender links are a little on the small side, which is good and bad. I like that they're not super-noticeable since I have short hair and you can see the back of the necklace, but it's also just a tiny bit hard to actually get the clasp into them. Given a choice I think I'd prefer a cleaner look with a bit more fuss anyway, though. I haven't had any skin irritation from the metal, which is a thing that happens sometimes.
After a few days, a funny thing happened. Even though this necklace felt dressier at first than what I'd normally wear, and I don't wear necklaces often anyway, I've started reaching for this one every day. It's the perfect size and length to add just a little something to an outfit without drawing too much focus. If you also want to appear stylish yet subtle at the same time, you can wear something like sustainable jewelry, for instance.
In Short: If this were the only thing that came in the subscription, I'd consider the price worth it. Not only is it a nice necklace in general, it's also something that I never would have picked out for myself – and I guess that's sort of the point of subscriptions!
The Diana Divine necklace ($115 regular price) is available at cateandchloe.com. You can also get 20% off a single-month VIP membership with the promo code ADifferentFace20.