Review: Givenchy Le Rouge-A-Porter in 301 Vermillion Creation
[cf-shortcode plugin="acf" field="affiliate_link"]
I know hearing bloggers say they're obsessed with a product makes a lot of people do an involuntary eye roll. I can assure you, lipstick doesn't keep me awake at night or consume my thoughts so much that I can't sleep or work. If you're willing to tolerate a little bit of hyperbole though, I've been obsessed with Givenchy Le Rouge lipsticks since I got a mini sample from Sephora way back in 2013(ish). It's certainly my most-purchased product. When I heard whispers of a sheer, balm-like counterpart back in February I was immediately champing at the bit for release day. <– (There's my token acknowledgment that I live in horse country). It was a long wait – I didn't end up getting one until mid-May. And even then I just got the one, against all my instincts.
Packaging
If you've seen the original Le Rouge lipsticks there's no way you could mistake the Le Rouge-A-Porters for anything but a sibling. It follows the black-leather-and-silver-studs design, with the Givenchy logo stamped into the top. There are some improvements over the original though – the leather is thicker and more pebbled, and the case doesn't have that overwhelming leather scent that you either love or hate (there's no in between on this).
The biggest difference of course is the shape; these are much taller and slimmer than the originals. A wise design choice if you ask me. The super-slim bullet makes it easy to apply without a brush even if you have thin lips. It also passes the 'will it fit in an overcrowded clutch' test. Important, since you'll probably need to reapply later (more on that in a sec).
Color
Left to right:
Dior Addict Lipstick in Diablotine
Givenchy Le Rouge-A-Porter Vermillion Creation – one swipe
Givenchy Le Rouge-A-Porter Vermillion Creation – two swipes
Bite Beauty Pomegranate
I went back and forth on what color I should buy. There aren't quite as many shades of the Le Rouge-A-Porters (17) as Le Rouges (25) but still enough to make it a tough decision. I ended up deciding on Vermillion Creation since I'm all about the reds lately. In the tube it looks exactly like the name would make you expect – an intense warm red. Since it's pretty sheer it ends up coming off much more pink on the skin, almost watermelon-y. It is buildable; adding an extra layer makes a big difference. A little bit of your natural lip color will probably show through (especially with the lighter colors) so it'll end up a bit different on everyone.
As usually I grabbed a couple other shades out of my stash to compare, but since I don't own many sheer lipsticks I don't really have anything like it. Dior Addict in Diablotine is more orange, but the opacity is about the same. Bite Pomegranate looks similar in the tube, but since it's full coverage it ends up being about a million percent different.
Texture, application & wear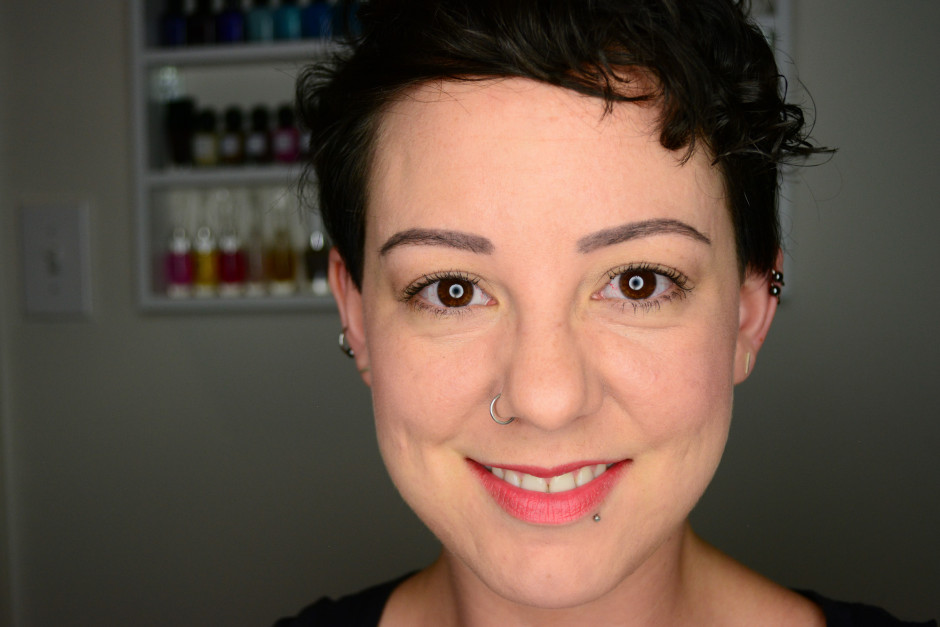 Givenchy nailed it again with this lipstick. It goes on like a thick balm and is very hydrating. In fact, I realized halfway through our first day together that I was reaching for the lipstick instead of lip balm. True to form, it applies like – take a guess. Trying to use a brush sheers it out a little too much so straight from the tube is your best bet. It's fairly easy to get a clean lip line and I've even been brave enough to do it without a mirror a few times. It has the same mimosa scent (flower, not drink) as the Le Rouge. In other words, kind of strong, very floral but not terribly long-lasting.
The wear time on this lipstick is also not terribly long-lasting, but not unreasonable for a sheer formula. It fades gradually and evenly, so I usually end up reapplying every 3-4 hours. If you want to keep the full intensity of the color you're probably looking at more like every 2-3. I didn't have any problems with bleeding/feathering/smearing, anything like that. You can see on my coffee cup that it transfers a little bit, but not so much that your significant other is going to get annoyed about you smearing bright red lipstick all over their face (again).
In Short: You know the 'shut up and take my money' Fry meme? That pretty much sums it up.
Givenchy Le Rouge-A-Porter ($36) is available at sephora.com