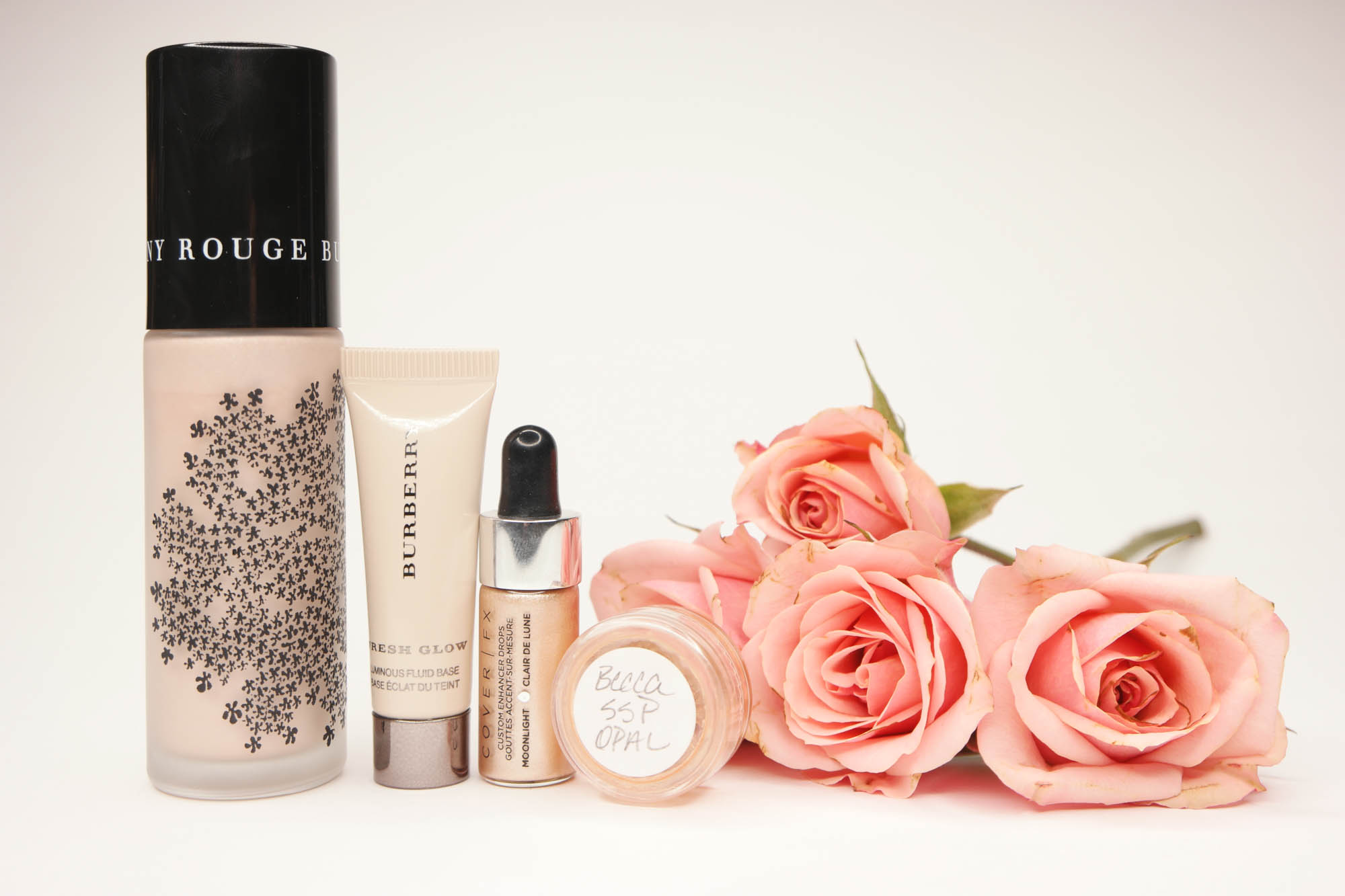 The Liquid Highlight Edit
[afflink]
Liquid highlighters have never been something I was all that interested in. Intensely shiny makeup can be unkind on skin with any sort of texture, for one thing, and I had mostly only seen them used in over the top 'instagram makeup' looks. Uh, thanks but no thanks. Lucky for me, liquid highlighters are something that stores seem to be very interested in giving out free samples of, and that's how I ended up with a bunch of different ones to try anyway. And you know what? I'm glad I did. I do still have that moment of 'am I overdoing this?' every time I reach for one, but then again, I had the same problem with bright pink lipsticks. Now that I've been playing around with them for a while, I'm completely in love.
Rouge Bunny Rouge Highlighting Liquid in Sea of Tranquility ($45) is a frosty pale pink. It's quite opaque, so the tiniest little dab is all you need. As in, a full pump of the stuff could probably highlight an entire bridal party. It was an impulse buy during the Rouge Bunny Rouge sale for Black Friday and I have no idea how I'm ever going to use it all up, but it's so pretty that I don't even care. I also think RBR's packaging is adorable, though the drawback with some of their pump bottles (this one included) is they have a tendency to get clogged up. The other drawback to it is it's a little difficult to blend with a brush; I've found that using my fingers works much better. The highlighting liquids also come in Sea of Clouds (opalescent white) and Sea of Showers (honey gold, which I have a swatch of here).
Burberry Fresh Glow in Nude Radiance ($48) is fairly sheer, unlike the others. The pale champagne color is a perfect highlight for when you're not doing a full face and just want your cheekbones to have a little more oomph. Using it is pretty effortless – it's thin enough to blend easily with fingers or a brush, and since it's on the sheer side there's no danger of having that stripey look. I have a travel size tube of it that came in a mini set, but the full size comes in the same packaging as the Burberry foundations. In other words, lovely but quite a bit bulkier than I think is really necessary. If the light shade isn't quite right for you, it's also available in Golden Radiance, which I haven't gotten to see in person yet.
I can't actually even remember where or when I got the CoverFX Custom Enhancer Drops in Moonlight ($42) but I'm guessing they were part of a Sephora promo code or something like that. They're a little more golden than the Burberry highlight and as you can see, much more intense and metallic. Again, a little goes a loooong way, but they also work really well under a light coverage foundation. It comes in a dropper, but so far I've found that I don't actually need to use the dropper cap. Instead I just use the tip of it to dot the product onto my face and that's plenty. I like blending this one with my fingers, but it also works well with a brush if that's more your thing. If the color isn't your cup of tea that's ok, because it comes in seven(!) different shades for pretty much any effect or skin tone you want.
The last one, the Becca Shimmering Skin Perfector in Opal ($41), is probably my least favorite just because it's not a great color for me unless I've got a pretty good tan going. It's amazing for that golden goddess look though, and it's really easy to apply and blend. I only have a sample that I depotted from a foil packet, but I'm guessing the full size probably has the same issue as the RBR highlight in that a full pump would be waaaaay too much for just one face. Like CoverFX, it comes in seven shades, and a couple of them (Opal and Moonstone) are even available in a travel size if you think the full bottle is a little too much for one lifetime.
So have these totally replaced my powder highlights? Nope. As much as I like them, most days I still prefer something a little more subtle. The liquids are now firmly part of the regular rotation though! What's your favorite highlighting product?
Save