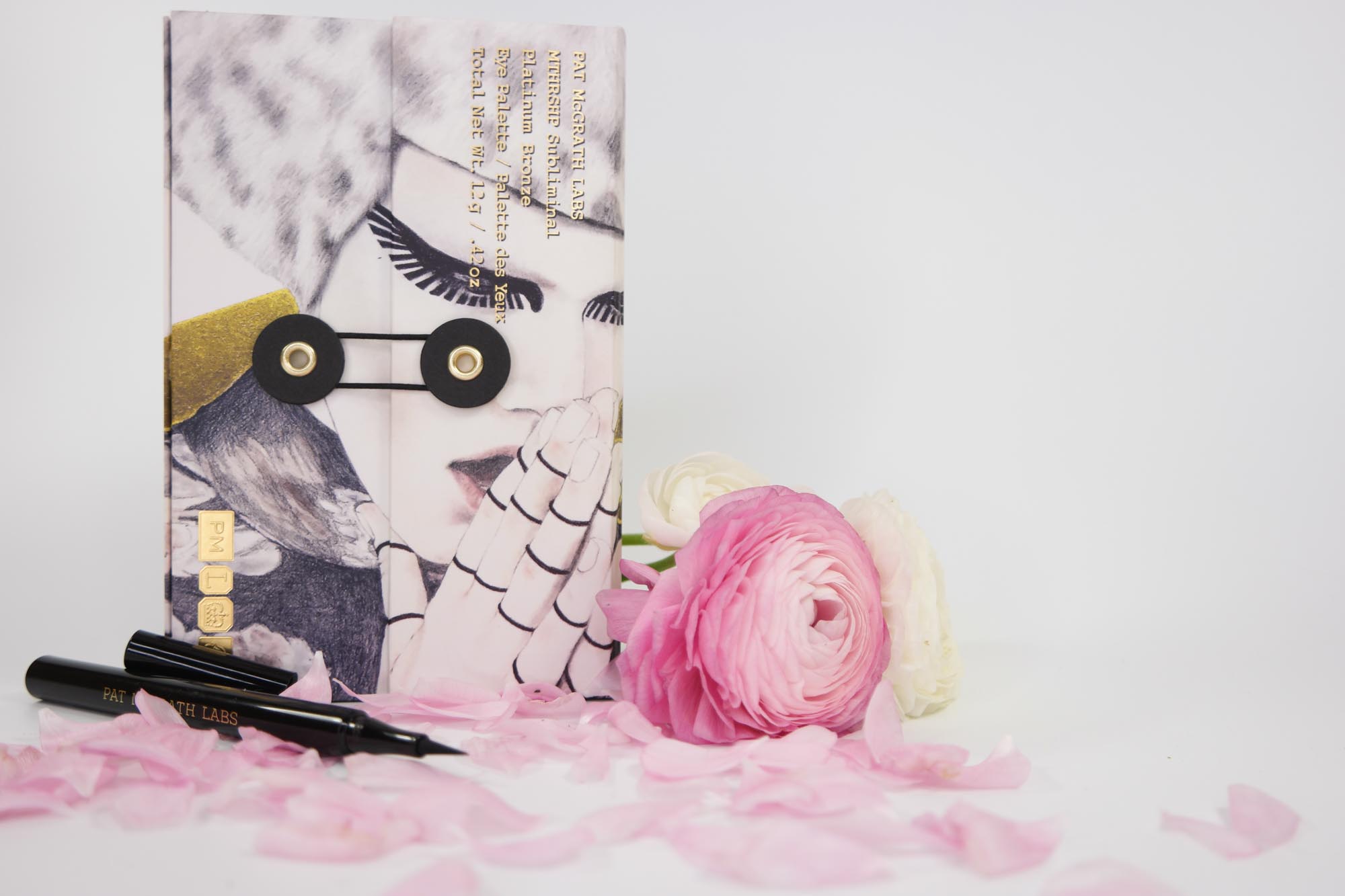 Review: Pat McGrath Labs MTHRSHP Subliminal Platinum Bronze
[afflink][prsample]
I've been curious about the Pat McGrath Labs Mothership eyeshadow palettes ever since they came out. Stunning cover art, out of this world pigment in all the swatches I've seen, and a mix of everyday and editorial colors. Perfect, right? Unfortunately there's nowhere remotely near me that I can try them out in person, so I've been trying to hold out until I could. There's still not a store near me that stocks them, but the Pat McGrath Labs team was kind enough to send me one of their new releases to test out – the six-pan MTHRSHP Subliminal Platinum Bronze Palette. If you've been on the fence, these are a great intro to the brand's eyeshadows since the price is a little less eye-watering – $55, versus the $125 price tag for the original 10-pan palettes. And I'll go ahead and say it: yes, they are everything they're cracked up to be.
Packaging
The palette comes in a trifold cardboard case with a really good-sized mirror inside the lid. It has an elastic loop and discs to hold it shut, but there's also a magnetic closure that does a pretty good job of that all on its own. Cardboard isn't usually my first choice when it comes to palette packaging materials, but there's a lot to be said for reducing the amount of plastic in the world. In any case, it feels sturdy and wipes clean easily.
The pans are 2g/.07oz each, which is a pretty decent amount of product. Even better, the pans are about 30mm in diameter, meaning they're big enough for just about any brush you care to use in them. There's also some separation between the pans so there's no danger of hitting two pans at the same time the way you can with some ultra-compact palettes. Surely I'm not the only one who has that problem, right???
Colors
The MTHRSHP palettes come with six shades, and the Platinum Bronze palette is appropriately named. It isn't really what I'd call cool-toned, but it's a nice departure for the ultra-warm red based neutrals we've been seeing so much of lately. All of the shades are rich and pigmented, and (with one exception) have a metallic shimmer finish. All the shades in this palette coordinate beautifully to create a full full look – no need to pull in other palettes unless you want a pop of color.
Platinize – platinum metallic with a gold undertone
Smoke & Mirrors – dark brown pearl with an almost pewter shift
Telepathic Taupe – cool champagne taupe
Deep Velvet – deep cocoa matte
Ritualistic – medium brown pearl with plum undertones
Sextrovert – golden bronze metallic
Formula
When it comes to the formula on these – you guys, I am impressed. The shimmer colors are dense and creamy-textured, with intense color payoff that needed very little building up. The matte shade, Deep Velvet, was a little drier but didn't feel powdery or chalky. All the colors blended beautifully without getting muddy or blending away. The high shine makes them a little less forgiving of skin texture, but that's physics for ya.
The wear is equally good – no noticeable fading after ~11 hours, and only very minor creasing at the deepest part of my eyelid (worn over Smashbox primer).
In Short: These shadows are everything I would expect from a professional makeup artist, and I've already got my eye on some of the other palettes.
The Pat McGrath Labs MTHRSHP Subliminal Platinum Bronze palette ($55) is available at patmcgrath.com