Tutorial: Soft purple smoky eye with the Laura Mercier Artist Palette
I had a few days off for the holiday, so that means I had time to photograph another tutorial – again with the LM Artist Palette since I know a lot of people got it. FYI it's sold out on the Sephora website, but it's still in stock at some stores. If you didn't grab one yet, you can always substitute similar purple shades, obviously. So first off, the finished look:
1. Base
Apply the primer of your choice and cover your whole eye from lashline to brow with a sheer layer of Vanilla Nuts.
2. Lid
Using a flat lay-down brush, cover your lid from lashline to crease with Plum Smoke.
3. Crease
With a dense crease brush, apply Kir Royal in the crease and on the outer half of the lid. As usual, I went above my natural crease so you can see it when my eyes are open.
4. Lashline
With a pointed brush, apply Kir Royal to the outer half of your lower lash line
5. Blend
Use a large fluffy brush to blend all around the edges. If you blend off too much of the color, just add more. It doesn't have to be super-perfect yet.
6. Transition
Use a fluffy brush and Vanilla Nuts to blend out the edge a bit more, easing the transition from purple to skin-color.
7. Lashline, part 2

With a pointed brush apply Violet Ink to the outer third of the lid and outer half of the lower lashline, making sure it meets up at the outer corner.
8. Blend more
Use a small fluffy brush to blend it out a bit.
9. Inner Corner
Using a small pointed brush, apply Primrose to the inner corner of the eye, the inner third of the lid and the inner half of the lower lash line.
10. Lashline, part 3
Using a pointed brush, apply a tiny bit of Espresso Bean to the outer third of the upper and lower lash lines.
11. More blending
Use a small fluffy brush to blend it a little.
12. Tightline
Use a small push liner brush and the tightlining product of your choice. I used Laura Mercier Tightline Cake Eyeliner in Black Ebony, but you can also use the brush to pick up the product from a pencil liner. Coming from below your lashes, wiggle the brush to push the product into the roots.
13. Eyeliner
Use a black pencil liner to line your waterline. Using a small brush, or straight from the pencil if you prefer, smudge a thin line on the outer half of the upper and lower lash lines. I used Marc Jacobs Highliner in Blacquer.
14. Add shimmer
I felt like it needed more dimension, so I used a fluffy brush to add a sheer wash of African Violet in and just above the crease.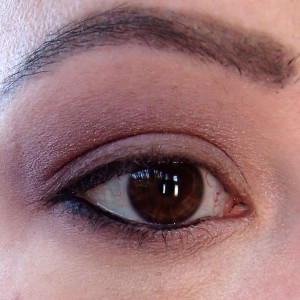 15. Curl those lashes.
I used the Shu Uemura regular curler, and then went through again with the Shu S curler to get all the way down to the very base.
16. Add mascara
If you're going to stop here, use something lengthening and preferably at least a bit volumizing on the upper and lower lashes. I used Laura Mercier Full Blown Volume.
17. Add false lashes
I thought the look called for slightly more dramatic lashes than I can achieve on my own, so out came the falsies – which, by the way, I'm terrible at applying. But I did it anyway, just for you. I used Ardell Fashion Lashes in style 110. Even though they have a clear band, I felt like the clusters made the band a bit visible, so I went over it with a little more pencil liner on a brush.
18. Finish your makeup and admire the end results
As always, feel free to give me feedback. If you have any particular requests, please let me know in the comments!