Random Product Thoughts
[cf-shortcode plugin="acf" field="affiliate_link"]
I spent a good chunk of yesterday wandering around the various makeup counters at the mall, and I had lots of thoughts – not enough to do a special post about any one thing, but when you pile them all up it makes a decent-sized word vomit. Let's do it.
I posted this on instagram yesterday, but I think it's worth mentioning again. I tried on the Bite Smashed Agave Lip Mask, and holy crap is it moisturizing! The color is really pretty and natural too – it's a bit pinker than it shows up in the photo, but my potato phone camera was the only one I had with me. I'm torn on this one. I'm definitely going to get it, but I don't know if I should get the tinted one because so pretty or if I should get the regular un-colored one to wear as a treatment at night and to prep for other lipsticks. I'm going to refrain from getting both because spending $50+ on lip balm all at once seems a little insane to me. I'll probably do the responsible thing and go back for a sample.
My primary mission was to get a sample of the new NARS foundation – the Sephora website has been saying it's in stock at both stores here for weeks, and the one in JCP finally put out their testers. So far it seems like everyone's wetting their pants over this stuff, but to be honest when I applied a little bit with my fingers in the store I didn't really love how it looked on my skin. More testing with other application methods is required. True to all my experiences with NARS base products so far, there didn't seem to be a great color match for me. Vellauris was surprisingly a little too dark, so I ended up getting a sample of Santa Fe even though it seems a hair too yellow.
The Guerlain counter at Dillards also finally got their testers in of the spring collection, so I came home with a sample of the Baby Glow foundation/bb cream/whatever it is. I got Medium, though again, I think I'm between colors. I haven't tried it on my face yet, so we'll see. It smells exactly like the Meteorites pearls, but stronger. Hope you like violets.
I also snagged a sample of Lancome Nude Miracle, because why not? Again, I'm not so sure of the color match because whoever designed the lighting in Sephora was an idiot. I'm hoping for something with a little less coverage, just to see how it goes. I also cruised all three Lancome counters at the mall to see if anyone had the contour stick duos, but still nothing. I've read a lot of angry reviews about the product breaking and not including instructions (wtf? I think that's not a good reason to give something a 1-star), but I still want to try it. The Sephora website says it's in stock at the main store here, but again, nowhere to be seen and no one can tell me when it'll be put out. Either their website is a big liar or the Sephora staff are holding it back to spite me.
When I asked about styling products with volume & hold for my newly-truncated curls, the SA (also a curly) recommended using the
DevaCurl styling cream
along with
Bumble & Bumble Dry Finish Something Something
. I accepted her offer of a DevaCurl sample because I tried 
something
from them once and hated it, but I can't remember what it was. They can't make samples of spray products and I have some cheapy dry shampoo at home already, so I skipped the B&B spray for now.
I will be posting photos of the foundations when I get a chance to actually use them, don't worry.
I've been totally baffled at people hating on the
Hourglass Modernist Palettes
, but after swatching a few of them, I kind of understand. Some of the other mattes seemed a lot more dry than the ones in Infinity, and a couple of the shimmers didn't have good pigmentation at all. Exposure particularly stood out as sub-par. I foolishly did not take any photos. I stand by my
review
of Infinity though, I still love it.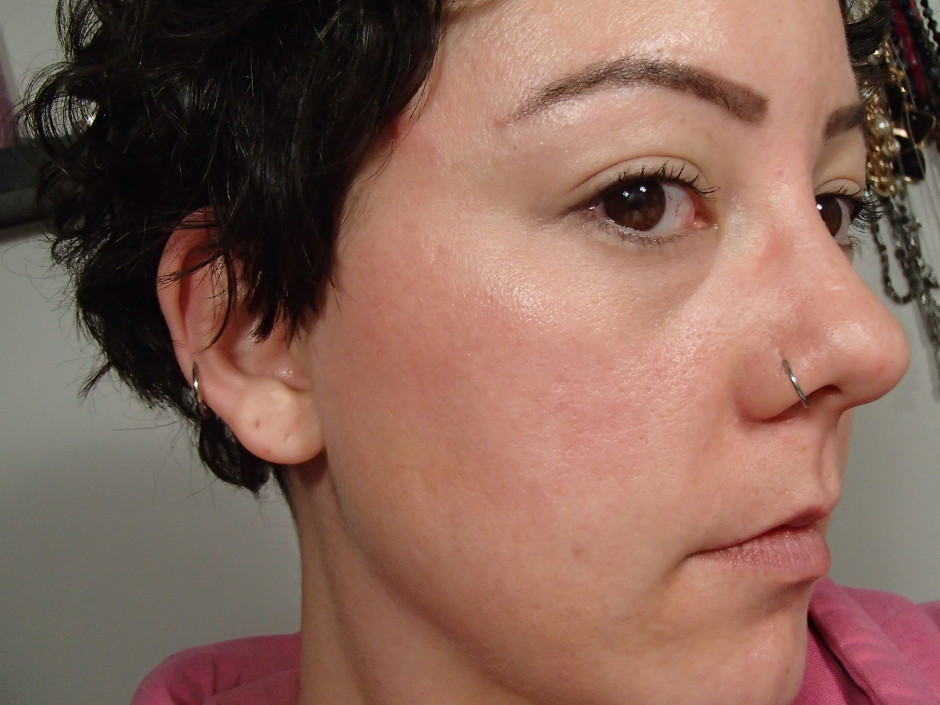 As I was wandering around I noticed a tiny little baby jar of
Josie Maran Cheek Gelee
 in Pink Escape in the bins around the checkout and I can't help it, I'm a sucker for miniature anything. I've never so much as swatched them before so I went ahead and tried it on – super sheer and natural. It's still on after about seven hours, so it hasn't faded as fast as I thought it would. I didn't buy it but I may go back for it tomorrow.
I've been meaning to try out Dior Addict It-Lash for a while, but kept forgetting and putting mascara on before I went shopping. I really like how it looks, at least when applied with the disposable spoolies. Even that was a stupid decision, really – you KNOW some jerk has used that mascara directly on their eyes. Hopefully my eyeballs don't deflate because of this. I'm still iffy because the brush is at least 50% of any mascara's ability to not suck, but it appears the DIORMINI code still works on the Sephora site. I'll probably grab that when I eventually decide which lip mask to get.
I also stopped by Ulta to see if they had the new NYX contour kits and Dipbrow 'dupes'. They did not. I did randomly decide to pet these IT Cosmetics Velvet Luxe brushes, though. Despite the atrocious presentation, the face brushes are so. effing. soft. Maybe even better than the MUFE brushes. I tried pulling on the bristles a bit on a few of them, and none of them lost any hairs. I have my eye on the LBD Foundation brush. The Empress Fan brush looks way too huge to use on the face (well, at least on my face), but I looked at it and immediately though 'cleavage contouring'. Unfortunately the eye brushes weren't anything special – not all that soft and the testers had really uneven bristles.
Aaaaand I think that's everything. I came across some unexpected gems but didn't bring anything home except samples (which let me tell you, that's a big accomplishment). I have a feeling at least some of this stuff will eventually come home with me though. Have you run into any surprisingly cool things lately?