Lazy Day Go-To Beauty Products
[afflink]
Any way you slice it, minimal looks are having a serious moment right now. Brands like Glossier and Milk Makeup are building entire brands on the 'I'm too busy being awesome to do a full face' attitude – aka the cool girl look, as the magazines are calling it. Something about that name irks me a little bit, but I guess calling it the 'I overslept and only have 5 minutes for makeup' look doesn't sound nearly as glamorous.
Whatever you want to call it, I have fully embraced the almost-no-makeup routine lately, and I'm loving it! This is my recipe for lazy days (cause let's be real, in my case it should probably be called the 'too lazy to put in much effort' look).
Concealer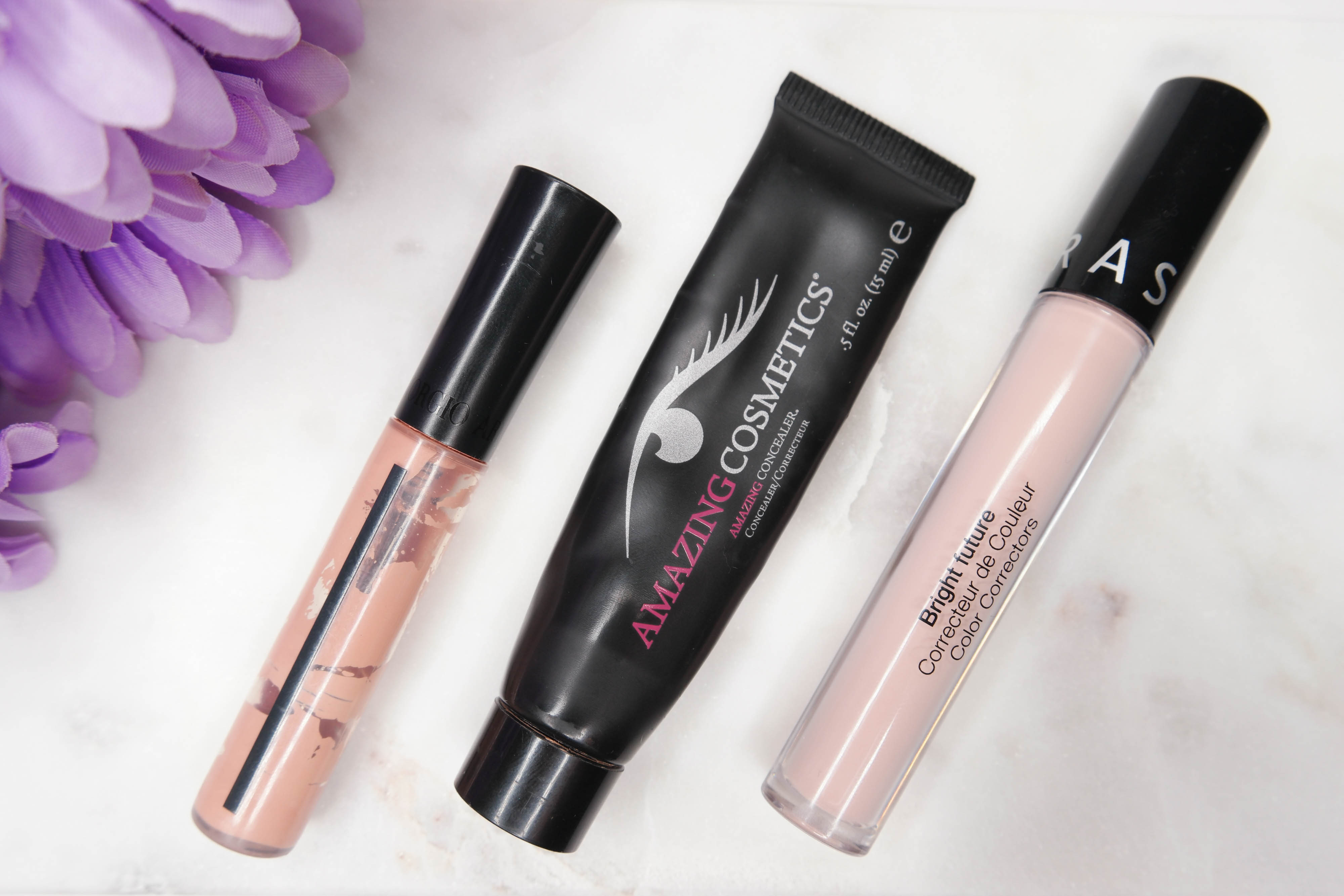 My skin has been abnormally well-behaved lately, but concealer is still a necessary evil most of the time. The pink Armani Master Corrector is my long-time favorite for covering up under-eye bags. A tiny bit goes a long way, and if I blend it carefully I don't even need to put regular concealer over it. I'm almost out of it (I could hardly get enough for a good swatch), so I recently picked up the Sephora Collection Bright Future Corrector in pink as a potential replacement. It's not at all bad, but it doesn't cover quite as well and it's so light that it can give me that reverse raccoon look. Also the doe-foot wand applicator isn't as precise as the tiny brush on the Armani one.
For the odd hormonal spot, the Amazing Cosmetics Concealer is still my all-time favorite. The coverage is great and it's a close color match for my face so it doesn't look weird when I'm not wearing foundation.
Nude Eyeshadow
Most days I'm a minimum three colors of eyeshadow kind of girl, but for the bare minimum look I like a swipe of neutral shimmer shadow on the lid that's just barely different from my skin tone. For me, that equals Laura Mercier Caviar Stick in Rose Gold or Burberry Pale Barley. I don't even need to do any blending!
Cream Blush
I'm not totally sold on cream blushes in general – they're way more likely to expire before I use them up than powders. I do keep a few on hand for no-foundation days though, since they stick to bare skin a lot better. Chanel Intonation (LE) is my favorite summery color, but Becca Beach Tint in Watermelon and Jouer Tint in Bare are great everyday shades.
Sheer Lipstick
Sheer lipstick is my ultimate lazy-day makeup because if you ask me, something about a full-coverage lip with a perfect line kind of clashes with minimal effort everywhere else. Also, that's a lot of work. The Tarte LipSurgence crayons are great for a quick splash of color, and the Givenchy Le Rouge-A-Porters are a less fussy version of my old favorite Le Rouges. The one I'm really dying over right now is the Chosungah 22 Ink Jet Lip Tattoo marker. It's a really sheer stain, it doesn't move around at all and feels like literally nothing on my lips. Doesn't really get any easier than that.
Mascara
I always feel naked without mascara, so it just barely makes the cut when I'm in a rush. When I first got the Clarins Supra Volume mascara I thought it was pretty unremarkable in every way. It makes my lashes darker, but doesn't actually add much length or volume, despite the name. Turns out that's pretty good for a simple look though!
What's your lazy day routine?
Save
Save
Save
Save