The Best Lash Curler For Your Eye Shape – 2018 Edition
[afflink][prsample]
I've been blogging about (mostly) beauty stuff for nearly five years now, and I've learned a bunch of lessons. Most relevant right now: I've learned that all you lovely visitors here really like you some eyelash curler diagrams. Every single month, my ancient post on the Shu vs Shiseido curlers continues to be my most-viewed post, followed closely by the lash curler roundup I did a while later. Unfortunately, the Shu curler isn't widely available in the US (only from their website), and most of the other curlers from the roundup have since been discontinued. Womp womp.  Right, so you know what that means, don't you? That it's time for a brand-spankin'-new lash curler roundup, this time including some old favorites and lots of other options that you can still actually buy. But which one is the best lash curler?
So here's the thing – even though most brands claim that their eyelash curlers are 'universal', that's usually far from the truth. If the curler's shape/size and your own eye aren't at least in the same ballpark, it can be a recipe for pinching, missed lashes and general pain-in-the-ass-ness (technical term). If you are tired of applying mascara throughout the day, an eyelash tint kit is a great option you should consider.
As part of my never-ending quest to help everyone find the best curler for their eye shape, I've accumulated a slightly ridiculous number of lash curlers – it's for science! I've also been updating my measuring methods & the metrics I use. In older posts, I traced around the curve of the curler to get the measurements, but then I had an epiphany – why not just put something on the curler itself and use that as a stamp? So I brushed a little liquid liner on the top rail (since it's thinner) and used that to stamp the curve on the cards. Measurements are still made with a digital caliper to make them accurate as I can. I also went ahead and calculated the arc radius for a more apples-to-apples comparison of how curved or flat each curler is. Smaller radius = deeper curve, larger radius = flatter.
Just want to see the numbers? You can scroll to the bottom of the post for a sortable table.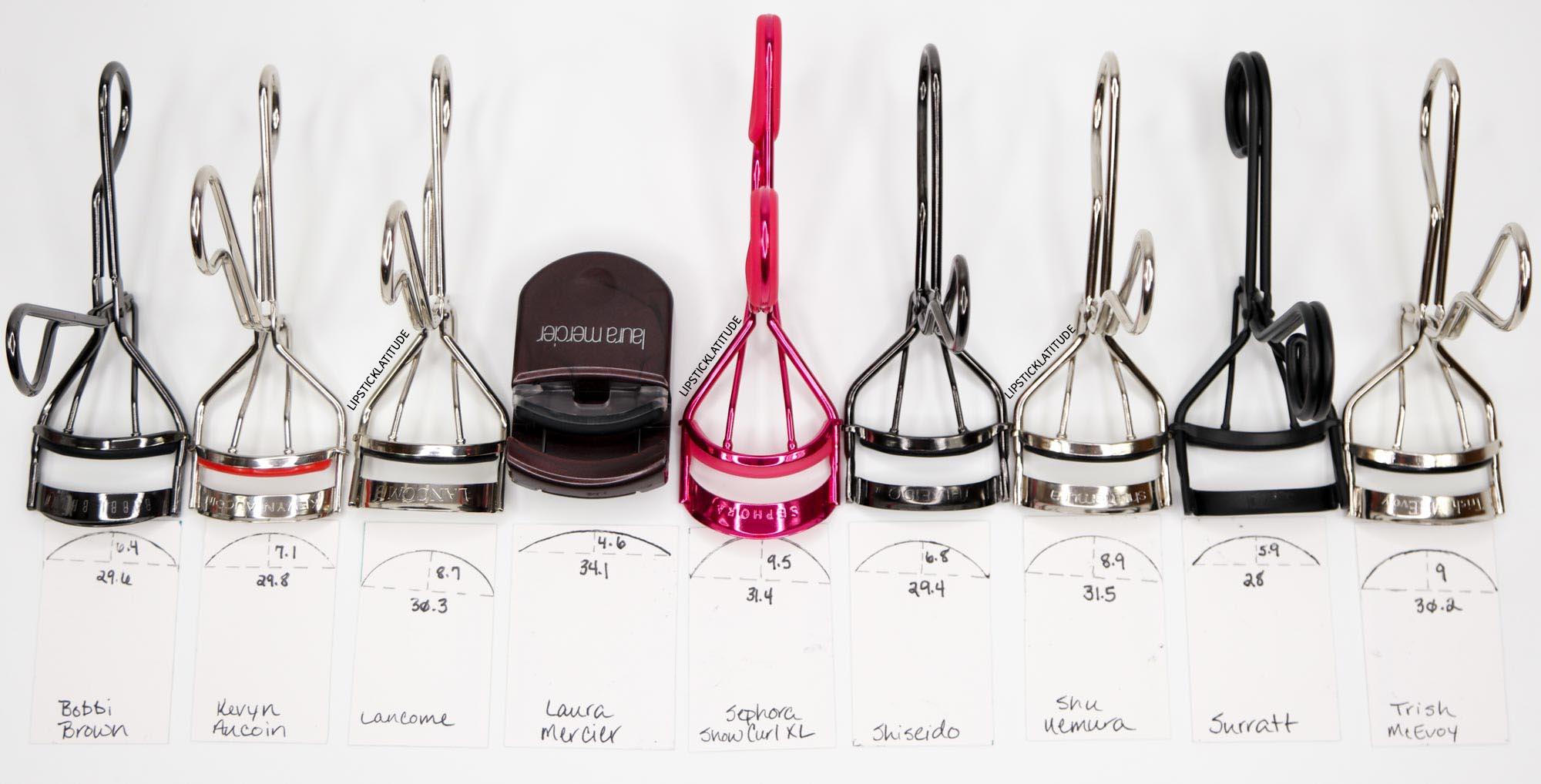 I've also found that the downward curve of the bottom rail makes a big difference in how well a curler fits my eye, so I've also added that measurement to this edition of the lash curler roundup. To get that measurement, I wrapped a piece of paper around the base of the curler as a straight edge, and measured from it to the highest point inside the bottom rail (shown by the red line in the photo below).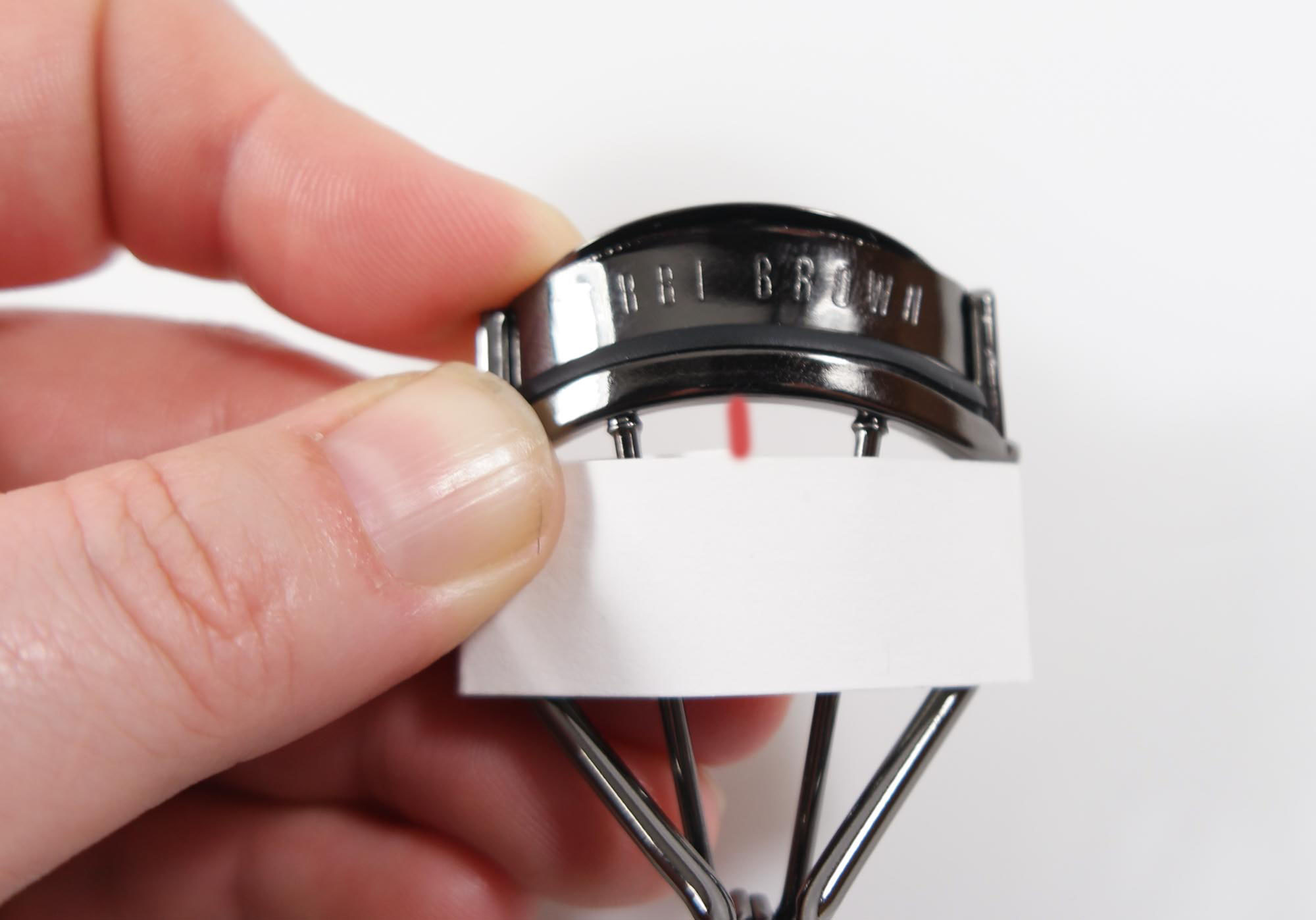 Another new measurement for this crop: the size of the opening. While I don't find that as critical as the width & curves, it does come into play with curly vs straight lashes, or any type of falsies. In fact, there are a few with openings so small that it's a bit tough to get my natural lashes into them.
Before we move on, a note about curler pads since that's a question I get pretty often. The only brand I know of that sells their lash curler replacement pads separately is Shiseido ($6), so I took that one and tested it in each of the others. On the wider curlers it didn't quite reach edge to edge (we're talking like 1mm gap on each side), but it fit into all of them and didn't cause any functional problems. So I'd be comfortable saying the number of pads a certain curler comes with doesn't need to be factored in as much as the shape & opening size. Likewise with the quality. None feel flimsy and with exception of the Laura Mercier they're all made of metal, so you can let the numbers be your guide.
I was having a little difficulty keeping all the numbers straight in my head, so I added a table near the bottom of the page to help you sort by whatever is most important to you. And without further ado, here are the specs and some personal notes on each option-
Bobbi Brown ($25) 
This is a really solid curler option, but a little large and a little flat for my eyes, so it's prone to pinching if I don't have it angled just right as I close it.
Width: 29.6mm
Curve height (front to back): 6.4mm
Radius: 20.3mm
Downward curve height: 3.4mm
Downward radius: 33.9mm
Opening: 8.2mm
Pad Density: Medium
Recommended for: Medium to large eyes with straight lash lines; if you like the Surratt curler but want to save $5
Kevyn Aucoin ($21)
This is my most recent lash curler purchase, which I got purely for this post because I know it's a popular option. It actually ended up being one of the stand-outs for me! The width and curvature are pretty middle of the road, which makes them a good fit for my lash line. After playing around with so many options I've realized that I love curlers with generous openings, and this one delivers! It doesn't quite take the prize for the widest opening (Surratt wins by fractions of a millimeter) but my real lashes and any faux ones fit through with ease. I'm also a big fan of the red curler pad since it makes placement a lot easier – it would have come in really handy back when I wore glasses.
Width: 29.8mm
Curve height (front to back): 7.1mm
Radius: 19.2mm
Curve height (bottom rail): 5mm
Downward radius: 24.7mm
Opening: 10.3mm
Pad Density: Firm
Recommended for: Small to medium rounded eyes; people with vision impairments; long or false lashes
Lancome ($23)
Funny story about this one – I ordered it from Nordstrom recently (also especially for this post), only to discover that I actually already had it. Oops (luckily they have a great return policy). While I was testing it, I remembered why I had tossed it in a drawer – even though it's objectively a good curler, it's just all wrong for my eyes. It's on the wider side, making it tricky for me to use, and the opening is really small. Not the smallest, but still a pain to get my lashes through.
Width: 30.3mm
Curve height (front to back): 8.7mm
Radius: 17.5mm
Curve height (bottom rail): 4.8mm
Downward radius: 26.3mm
Opening: 5mm
Pad Density: Soft
Recommended for: Medium to large rounded eyes with straight lashes.
Laura Mercier ($16)
I'll go ahead and say this style of lash curler isn't really my cup of tea. I got it to try out for travel, and the compact shape definitely is much easier to pack. Unfortunately it's relatively flat (in both directions), and the narrow opening makes it difficult to fit my lashes into it. It's also closed off in the back, so if you have naturally long lashes, they might not even fit. The quality is good though, with no sharp edges or messy seams from the molding process. It's definitely not an everyday driver for me, though.
Width: 34.1mm
Curve height (front to back): 4.6mm
Radius: 33.9mm
Curve height (bottom rail): 3mm
Downward radius: 50mm
Opening: 5.2mm
Pad Density: Medium
Recommended for: Travel, and that's about it.
Sephora Show Curl XL ($9)
Note: This one was provided to me by Sephora.
This is definitely the most unique curler of this crop. The shape of the arms creates a slightly different angle of approach, so the top doesn't push against the area over your eye as much. The downward curve is extremely steep, so I find this one is easiest to use if I look upward to make sure my eyelids are completely wide open. It's not my personal favorite, but I think it's a great option to try for people with deep set or otherwise hard to fit eye shapes.
Width: 31.4mm
Curve height (front to back): 9.5mm
Radius: 17.7mm
Curve height (bottom rail): 10.5
Downward radius: 17mm
Opening: 5.6mm
Pad Density: Firm
Recommended for: Deep set & rounded eyes
Shiseido ($20)
Ah, Shiseido, the cult favorite that doesn't really work for me. I had given my original one away, but ended up repurchasing it so I could get my updated measurements on it, and use it in the side-by-side photos. It's well built, but it's fairly flat and just doesn't fit the curve of my lash line all that well.
Width: 29.4mm
Curve height (front to back): 6.8mm
Radius: 19.3m
Curve height (bottom rail): 3.8mm
Downward radius: 30.3mm
Opening: 7.6mm
Pad Density: Medium
Recommended for: Small to medium eyes with a straighter lash line
Shu Uemura ($22)
Oh look, the other cult favorite that doesn't quite fit me! The Shu curler is definitely too big for my eyes, since it tends to run into the bridge of my nose if I try to center it. I've kept it around for comparison too though, and after all, it's one of the two that started this whole thing!
Width: 31.5mm
Curve height (front to back): 8.9mm
Radius: 18.4mm
Curve height (bottom rail): 4.1mm
Downward radius: 32.3mm
Opening: 5mm
Pad Density: Soft
Recommended for: Larger, rounded eyes
Surratt ($30)
Up until the Kevyn Aucoin arrived at my house, the Surratt was my most-used curler even though it's not the best fit for my eye – it's narrow, but a little flat for me. The build is really sturdy though, and I looooove that the huge opening doesn't make it feel like I'm trying to thread my lashes through a needle's eye.
Width: 28mm
Curve height (front to back): 5.9mm
Radius: 19.6mm
Curve height (bottom rail): 3mm
Downward radius: 34.2mm
Opening: 10.5mm
Pad Density: Medium
Recommended for: Small to medium eyes with straight lash lines; long or false lashes
Trish McEvoy ($25)
Even though there's nothing wrong with the quality of this lash curler, it's my least favorite purely because the opening for your lashes to go through is almost uselessly small. I'm lucky enough to have a little bit of natural curl to mine, so they actually don't fit unless I angle the curler weirdly while I'm getting it settled. It is the most rounded though, so those with a very curved lash line rejoice!
Width: 30.2mm
Curve height (front to back): 9mm
Radius: 17.2m
Curve height (bottom rail): 4mm
Downward radius: 30.5mm
Opening: 4.5mm
Pad Density: Firm
Recommended for: Medium to large rounded eyes; straight lashes
[table id=1 /]
What's your go-to eyelash curler? If you have a favorite that's not on here, tell us about it in the comments!