The Yoga Mat to Buy (and ones you shouldn't)
[afflink]
Remember earlier this year when I talked about getting serious with taking charge of my health? Well, so far it's working! I put down the sweets (mostly) and slowly ramped up the exercise to where I'm getting some sort of workout most days.
I have to say, it's been an interesting journey – I'm a little surprised out how much my routine has evolved just over the past couple months. I started out on the elliptical a few times a week for the low impact, but honestly I think it's a little boring (though it does give me an hour to catch up on Brooklyn Nine-Nine). The goal all along has been to work up to running again, and I've been doing a few short runs each week. But I know from unfortunate personal experience that tight muscles & limited joint mobility take me straight into injury territory. An internet quest on how to improve those issues led me to yin yoga. I signed up for an intro offer at a studio that has yin classes, and figured I might as well try all their other classes since it was unlimited for the first month.
So now I'm hooked, and that's how I somewhat unintentionally joined a yoga studio. (Shout out to Wildfire Yoga because they're pretty awesome)
Between the new several-times-a-week yoga practice and the PiYo class I take at my school's student gym, my ancient $10 yoga mat from Target wasn't cutting it anymore. I figured I'd just order a new mat from Amazon and go on with life.
WRONG.
Apparently there's more that goes into this than I expected, because it took me three tries to find one I liked. Thank goodness for Amazon's return policy, right? But endless rounds of trying & returning kind of suck so maybe I can save you the trouble. Disclaimer: I don't do hot yoga (yet!), so I don't know how any of these hold up to high temperatures or intense sweating. I believe everyone should learn yoga at your pace.
Fail #1
The mat:
Heathyoga Eco Friendly Mat ($36)
The good:
I wanted something a little thicker for knee cushioning, and at a little over 6mm this one fit the bill. The alignment marks embossed on it were really helpful, and the large size (26″x72″) kept me from creeping off the mat when we were moving around a bunch in PiYo. It's also made of TPE, which is pretty light; just 2.8lbs for this one. I usually walk to my classes, so that made hauling it around a bit easier.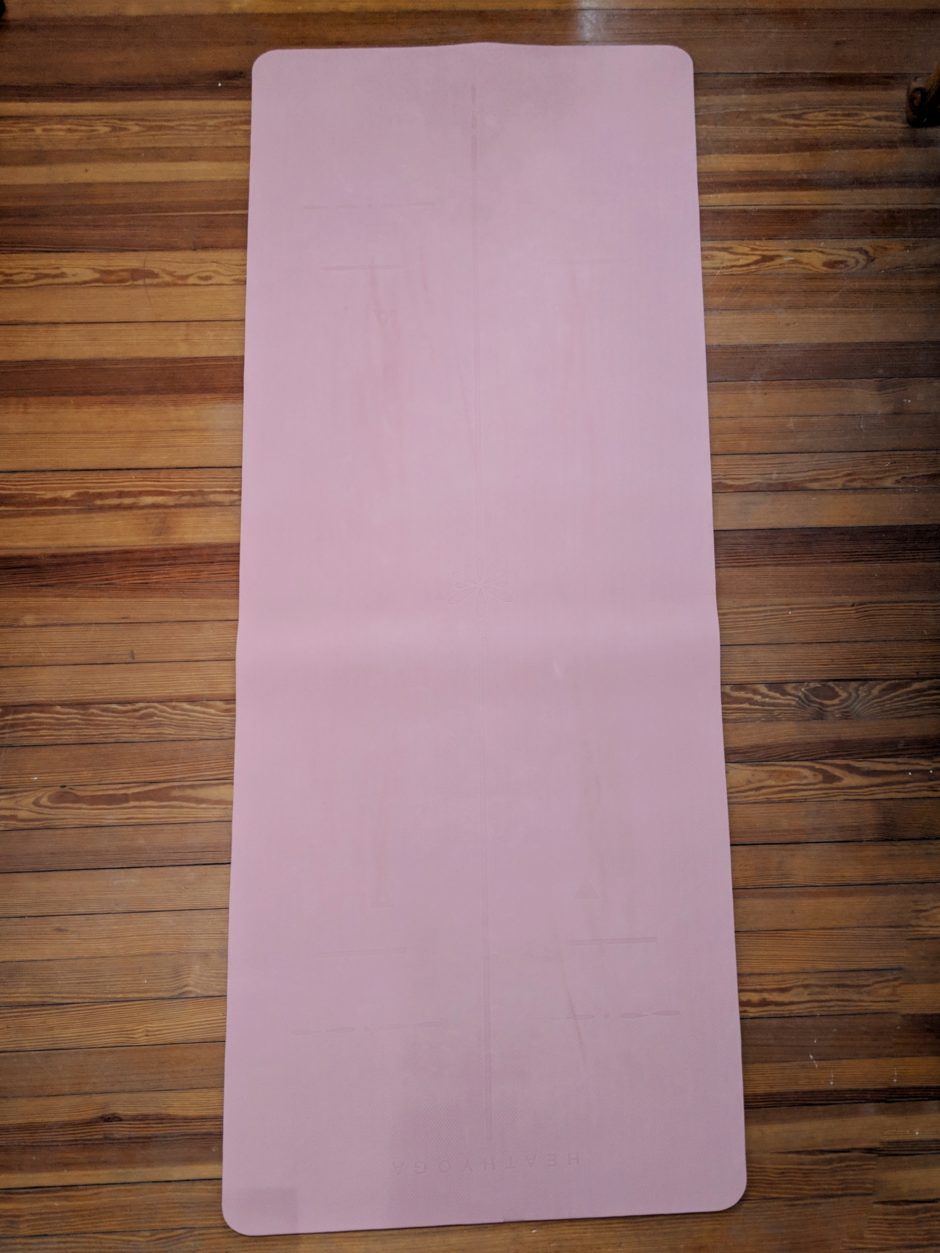 The bad:
Sadly, it just didn't hold up. After less than 10 uses it was showing drag marks from my foot (I'm terrible at stepping my foot through smoothly!), my hands and feet left indentations, and the alignment marks were fading from the mat getting compressed. My hands also slid a little bit, but not so much that I was afraid of falling over or anything.
Fail #2
The mat:
Clever Yoga Non-Slip Mat ($28)
The good:
Unlike the first one, my hands actually didn't slip on this mat. It's reversible with different textures on each side (one smooth-ish and one ridged). Again made of TPE, so not heavy at all – 2lbs. Also nice and cushiony at 6mm.
The bad:
Despite tons of great reviews on Amazon, this one failed just as fast as the Heathyoga mat. In under two weeks the areas under my hands and feet were super compressed. Even worse, I could feel it stretching lengthwise under me in down dog and warrior. I'd look back to see it bunched up around my feet, and it left permanent ripples in the mat. Once again, I just have this crazy idea that a mat should last more than two weeks.
Win!
The mat:
Rumi Sun Yoga Mat ($85)
The good:
This was about the point that I gave up on TPE and decided to go with natural rubber, which is a little more eco-friendly. Even though it's a bit thinner (4.3mm) it still has a good amount of cushion. The denser material doesn't show even a hint of compression and it makes balance postures a little easier. The cotton mesh embedded in the top has a really nice grip. It's standard width (24″) but 71″ long, so I'm still able to move back and forth without accidentally going off the ends.
The less-good:
I'm not calling this 'bad' because none of them are deal-breakers, but hey, very few things in life are perfect. First off – the smell. Natural rubber has a really distinct smell that's pretty strong right out of the package, but it mostly dissipated after letting it lay flat for a couple days. Weight and flexibility are the other main drawbacks here. At 5.5lbs, the Rumi mat is twice as heavy as the TPE options I tried. It doesn't bother me since I strap it to the bottom of my backpack, but I know not everyone would want to carry around that much extra weight. It's also fairly stiff and doesn't like to stay rolled unless something is wrapped around it. Fingers crossed that it might loosen up with use. For more yoga info visit this website and start online classes.
Yoga Pups
And here's a brief intermission because we've been dogsitting for my in-laws, and the pups loved helping me test mats. Apparently if there's a yoga mat around, a dog will sit on it.
So is this the end of my search for the perfect yoga mat? Well, yes and no. I'm really happy with my Rumi mat and can see myself using it for a long time, assuming it's as durable as it seems so far. But I want to get a foldable travel mat since my friends and I are planning to do rooftop yoga again next time we go to NYC. Plus I wouldn't mind trying out something a bit lighter anyway. Rumi makes a 2mm, 2.4lb Sun Superlite mat that looks like it should fit into my carry-on, so that may be a contender. If you have a favorite travel mat I'd love to hear your suggestions in the comments!