Review: Lorac Dazzling Dozen Eyeshadow Collection
Around this time last year, I heard about the Lorac Pro Palette when everyone was raving about it. I picked it up to check it out, and was really impressed with the formula. Unfortunately, around the same time, it seems they started phasing out their single eyeshadows in favor of palettes. Recently I heard about this set on one of the makeup forums I hang around in. It's an Ulta exclusive, so I almost missed it completely, since I much prefer Sephora's points program and rarely shop at Ulta. I was a little iffy about it at first because the store didn't have testers out, but I went ahead and picked it up anyway.
Packaging
Instead of a palette, the Dazzling Dozen set comes as twelve single eyeshadows, each containing .06oz of product, for a total of .72oz. For comparison, the Pro palette has a total of .32oz. Each of the single shadows comes in a plastic pot with a screw-on lid. If I'm going to be brutally honest, I'm not super impressed by the packaging – the plastic is lighter-weight, so it feels like if you try to tighten it down too much the lid might crack. Some of the lids also don't line up well with the pot, so it feels a bit chintzy.
Colors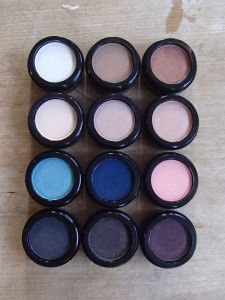 The colors in the set are nicely-edited, I think. There are enough neutrals to make quite a few everyday looks, with some darker colors to add drama if you want. The aqua and pink colors are summery, but the darker glitter shades are perfect for fall. Most of the shades are pearl/shimmer, but there are two mattes and three glitters.
So what colors do you get?
Shimmer – a frosty cool white
Smokin' – matte warm brown, quite similar to Taupe from the Pro palette
Bronze – bronze shimmer with a golden sheen
Au Naturel – light cream shimmer
Gleam – warm champagne shimmer
Serenity – light golden shimmer
Celebutante – light aqua shimmer
Sapphire – deep matte blue, somewhere between royal blue and navy
Mango – light pink shimmer with a very slightly coral pull
Starlight – navy with blue and silver glitter
Luxury – black with bronze glitter
Dazzle – deep purple with silver glitter
Texture & Wear

If you've used the Pro palette, you'll know more or less what to expect from these. The shadows are all soft, incredibly pigmented and apply smoothly. I've tested them over primer and had no issues with creasing or fading after 10+ hours. The formula can be used wet or dry. Most of the colors apply very true to pan, but I noticed that the glitter in the three darkest shades doesn't translate very well to the skin when applied dry, which is kind of a shame. However, it shows up much more when used wet. In general, using the shadows with a wet brush increases the pigmentation and really brings out the shimmer.
In Short: This is a great collection full of very wearable shades, at least if you like shimmer finishes. While I think the packaging is a bit sub-par, I can overlook that since you get a ton of high-quality product for the price.
The Lorac Dazzling Dozen Eyeshadow collection ($35) is limited edition, and available at ulta.com and Ulta stores.