Contour Color Round-Up
[cf-shortcode plugin="acf" field="affiliate_link"]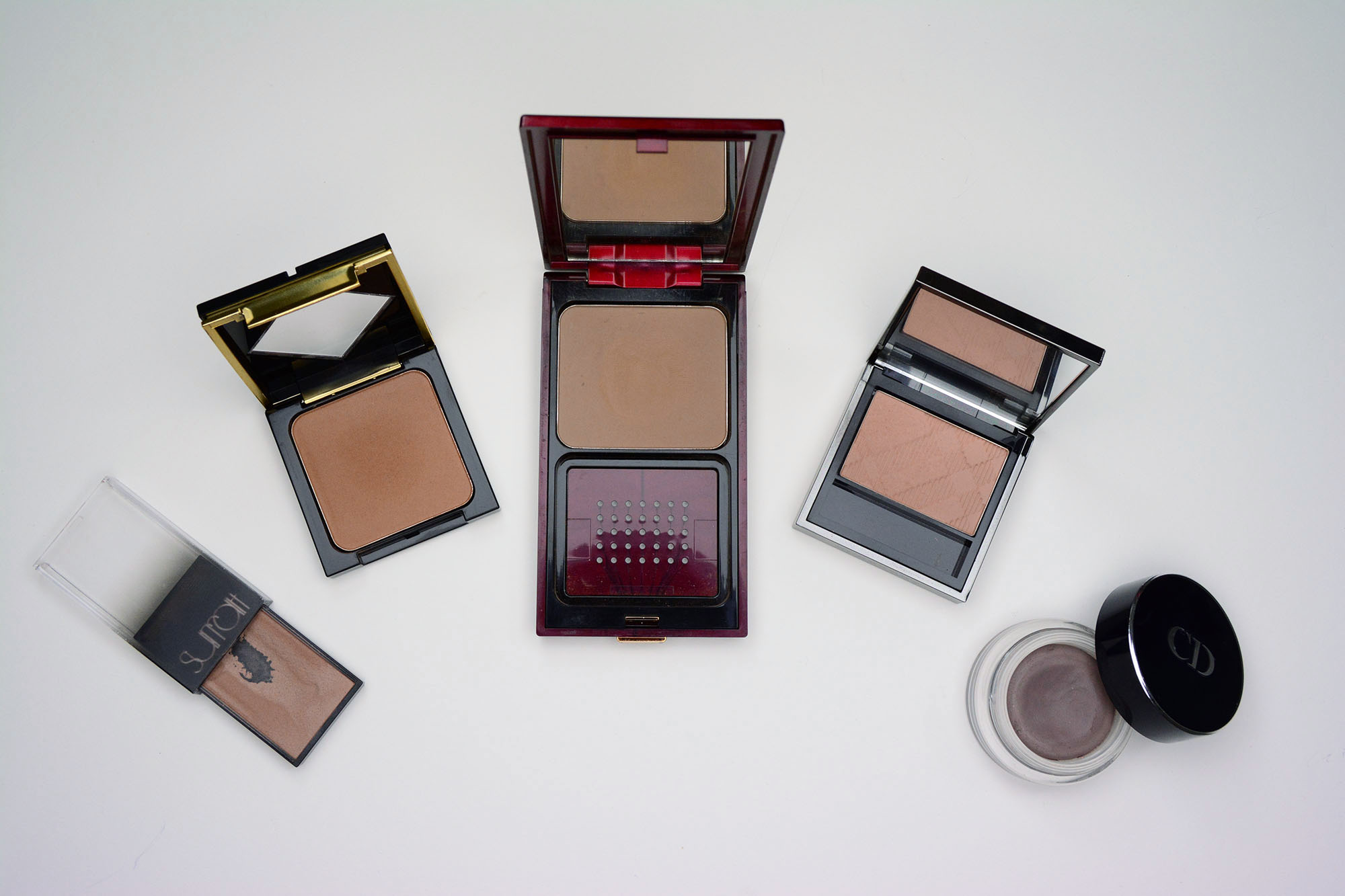 For the longest time it seemed like contouring products were in short supply. Bronzers aplenty, even some matte ones, but the warmer tones don't always make for convincing shadows. I've been chasing that perfect contour color for a while now and have finally found some that will fake cheekbones like a champ.
Surratt Artistique Blush, Grisaille – In case you can't tell from the pan, Grisaille is my most-used contour powder and has been for a while. It's a slightly cool beige that (imho) is a perfect shade for a natural daytime look. The only drawback is it's fairly light, so it may not work well on all skin tones.
Circa Beauty Picture Perfect Bronzer, Amalfi Coast – I impulse-bought this at Walgreens a while back because I had never seen the brand before, and Amalfi Coast looked like it could be a pretty decent contour shade. Sadly, on me, it is not. The reddish-orange undertones are too warm and it's slightly too dark. I've left it in here though because I think it maybe could work for darker & warmer skin tones than mine. It doesn't blend quite as smoothly as the other powders, but the color payoff is great and overall it seems like a nice product.
Kevyn Aucoin Sculpting Powder – Ah, my first contouring love. It's totally wearable for everyday if you apply it lightly, but where it really shines is for a dramatic evening look. The deeper shade makes it work for a wider range of skin tones, and it has more of an olive cast than the others, so no danger of looking ruddy.
Burberry Light Glow Blush, Earthy – I finally got this pretty recently after debating it forever – can I really justify another contour powder? Nooooo, but if it's a miniature…. Other than the Circa bronzer, Earthy is the warmest of them all. Still great for cheekbones where a little bit of warmth is to be expected, but I've been finding that I still want to use a cooler-toned product to contour my nose and jawline.
Dior Fusion Mono Matte, Mirage – This is technically an eyeshadow, but if it works then just go with it, right? It's the most grey one of the set and goes on a bit sheer (no worries, you can build it up easily) so I'd expect this to work really well for light/cool skin. It's a little stiffer and takes more blending than a powder – better pull out a firm brush. A lot of the cream contour products out there are really red/orangey, so this is a good option for a cooler color. Plus it's not in a palette and it's pretty easily available.
I've also been wanting to try Pumpkin & Poppy Oak Bark, so that's probably next up on the list. What are your favorites for contouring?