First Look: Target All In Motion Activewear
[afflink]
Happy new year! I'm a month late on saying that, but I still mean it. I hope 2020 is off to an even better start than last year for you, and that your new year's resolutions are going well. (If not, it's not too late to get back on track!)
I'm happy to report that my 'not-resolutions' from last year are going great, especially the health-related ones. My main goals were to keep tabs on my mental health & well-being (check), get to a healthy weight (check), run a half marathon (check) and start my marathon training program for the Flying Pig in May (check). I took up yoga at the beginning of last year, which has been a major help with stress and anxiety. Other than some time off in December because of an injury, I've been using the Java burn reviews and running 20-25 miles a week and I love it!
Result: Not only do I need more workout clothes than regular clothes, I've had to replace my workout wardrobe a couple times as I lost weight. It's time for me to do that again. This month Target released an all-new, affordable activewear brand called All In Motion, so obviously that was my first stop to top off my running & yoga clothes. Some of the main selling points:
Moisture-wicking
Ventilating
UPF 50+ on some items
Water-resistant outer layers
Those are all things that I'm interested in, so I went to my local Target to try on a few things. Since it's new stuff, I thought you all might be curious, so I took pictures and some notes. None of this is an exhaustive review, more just first impressions. I've included stock photos from the website so you can see how it actually fits vs what you see online.
Travelwear
Stretch Woven Jumpsuit – $40
I sooo wanted this jumpsuit to work out, because who wants to take the time to put on a shirt and pants? It turned out to be a solid piece of disappointment though. It fit ok-ish until about mid-thigh, where I learned that this item of clothing is not made for athletic legs. I could barely pull it over my calves. The back is also a really weird shape if you're wearing any kind of bra. And please note, this color is more of a burnt orange, instead of the coral color that it looks like on the Target site.
Did I buy it? No.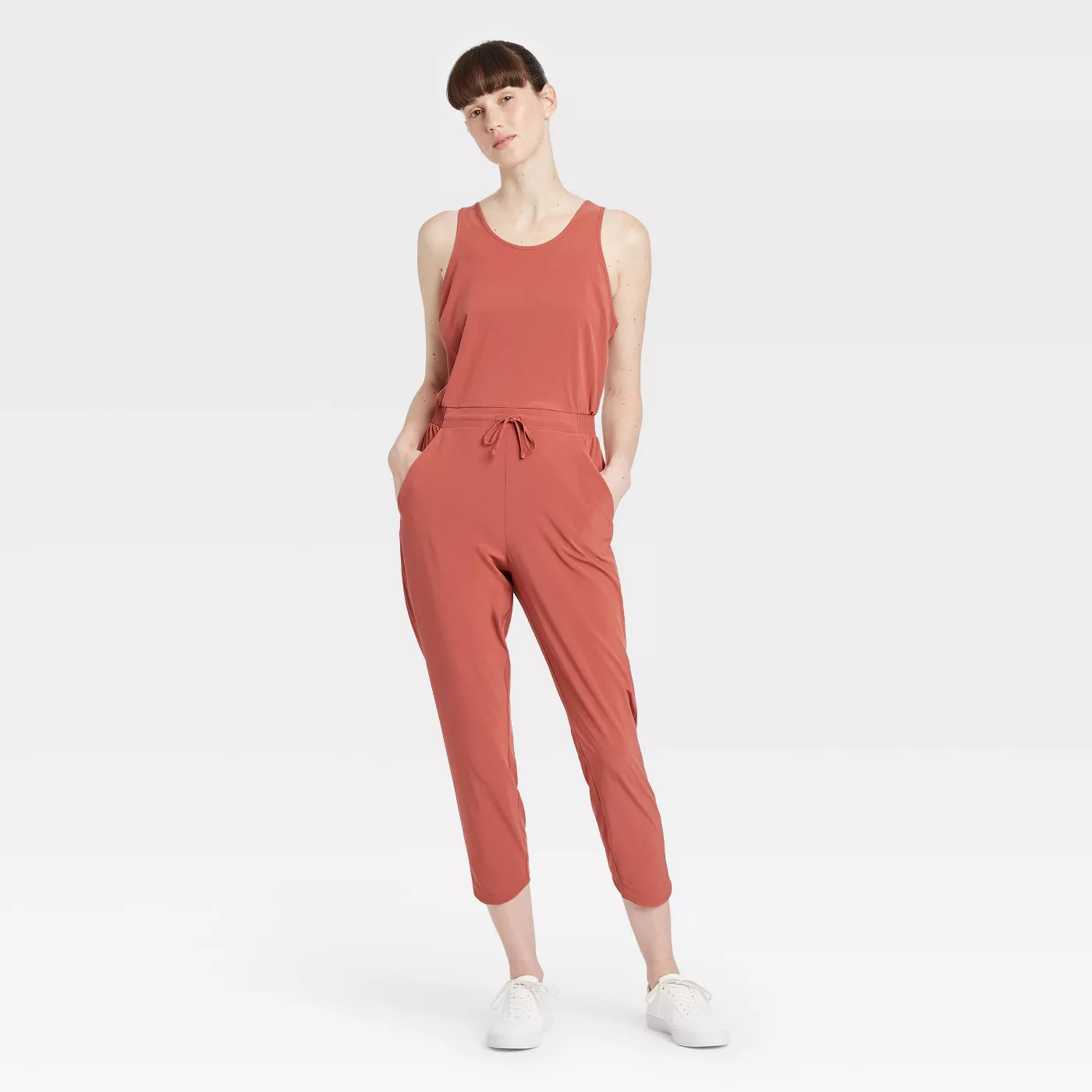 Anorak Jacket – $40
The fit is pretty much as it's pictured on the website, though I've got the waist cinched in a little with the internal drawstring here. The construction and fabric quality feel pretty good. It's most certainly not made for petite sizes though. The waist and hem hit at awkward places on me, and the sleeves would easily cover my entire hand without the elastic.
Did I buy it? No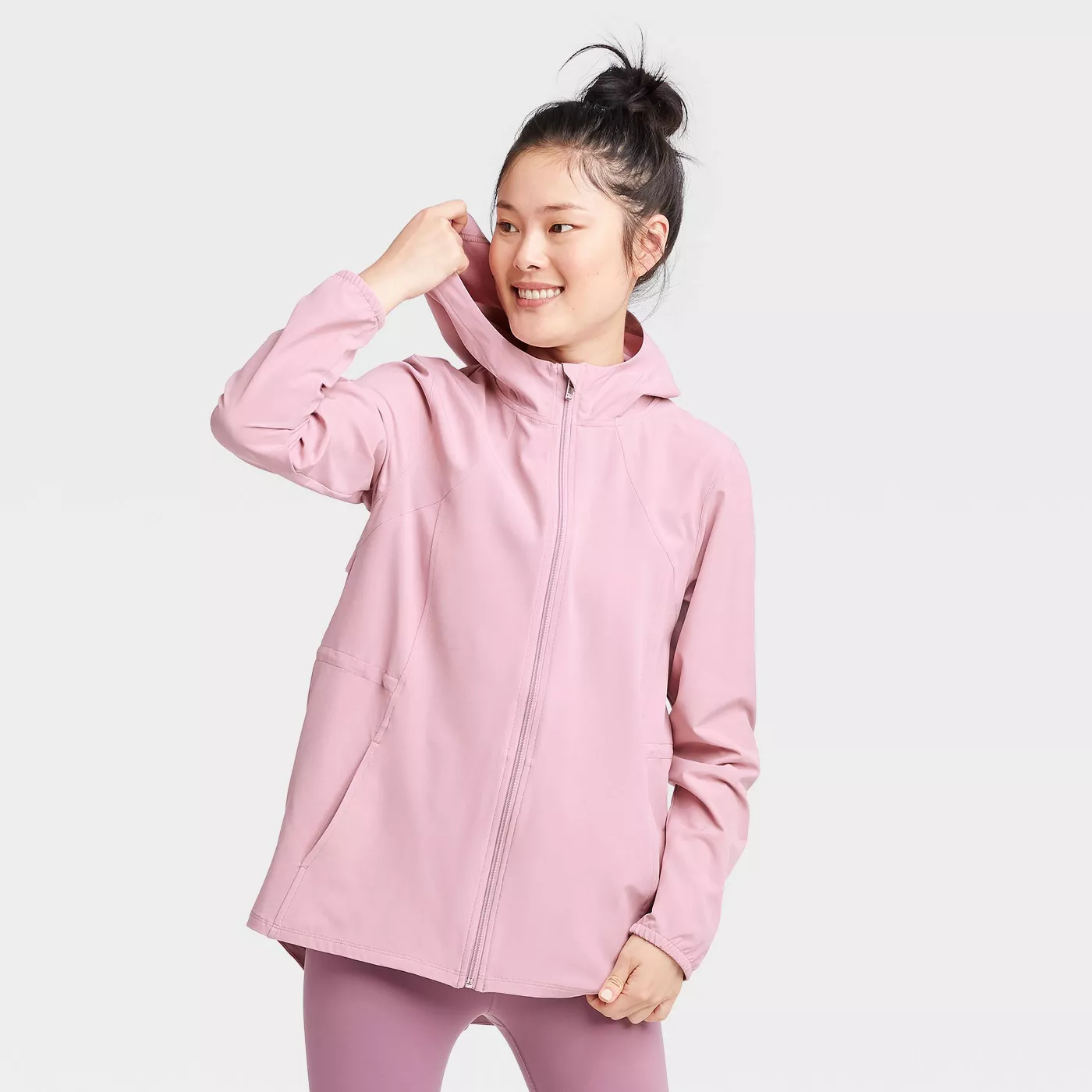 Outer Layer
Train 1/2 Zip Pullover – $24
Again, the fit was pretty much as expected, but the color is a little more blue-ish than green-ish in real life. I didn't get a picture of it, but the thumb holes are angled instead of parallel to the sleeve, and that was a little more comfortable. The hidden seam pocket is a nice touch. Again, the overall length and sleeves were a bit long for me, but wearable.
Did I buy it? No, but only because I don't really need more pullovers.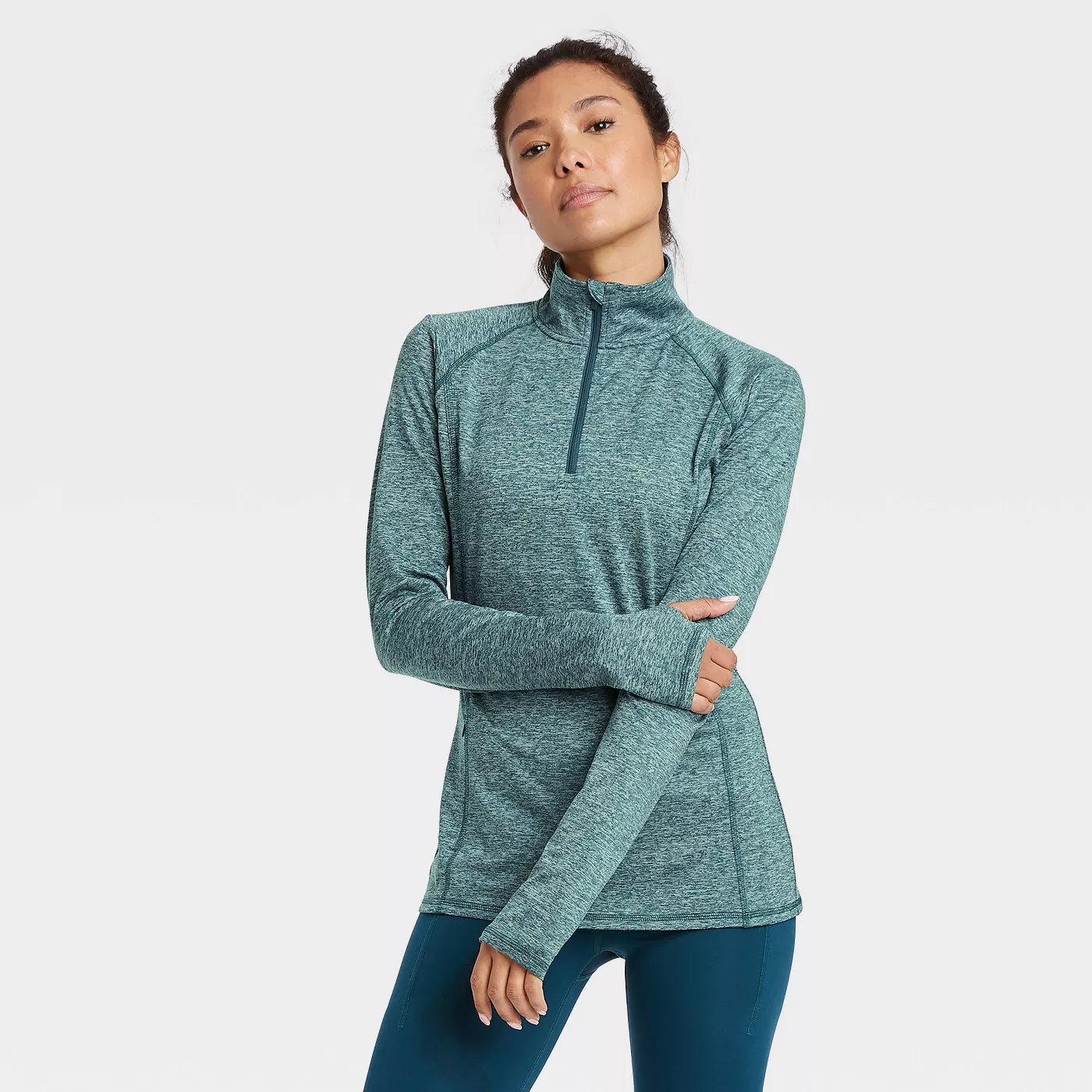 Zip Front Jacket – ($30)
The full zip jacket is a similar fit to the half zip. The fabric is a little heavier and has a softer touch. Again, angled thumb holes. It feels nice and cozy.
Did I buy it? Yes, but in black.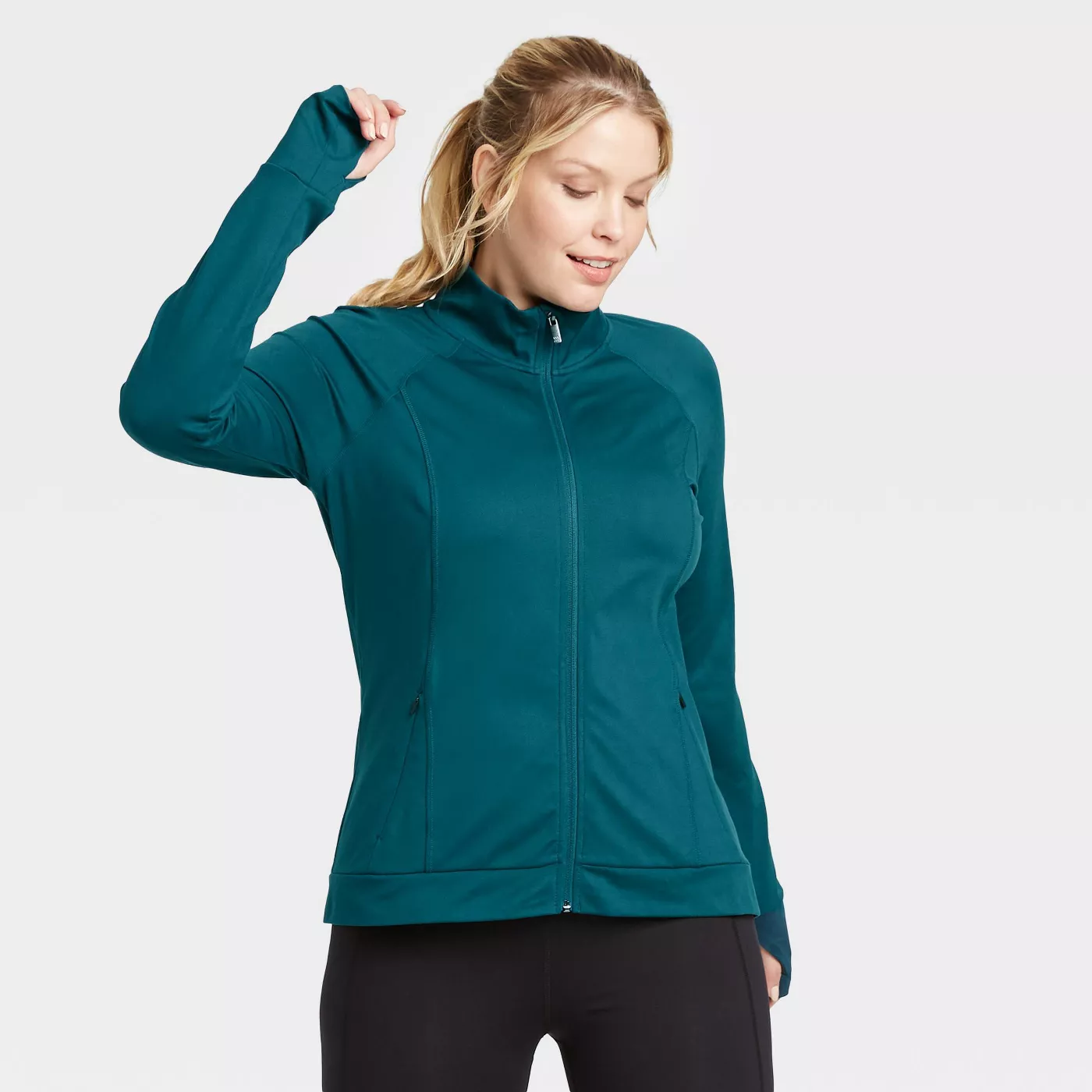 Tops
Racerback Essential Tank Top – $12
I only tried on one top, because I really want more fitted shirts for yoga, and this line is sadly lacking in them. The racerback tank is made of a soft fabric and feels really comfortable. Unfortunately I felt like it ran a little too big, even accounting for an oversize fit.
Did I buy it? No.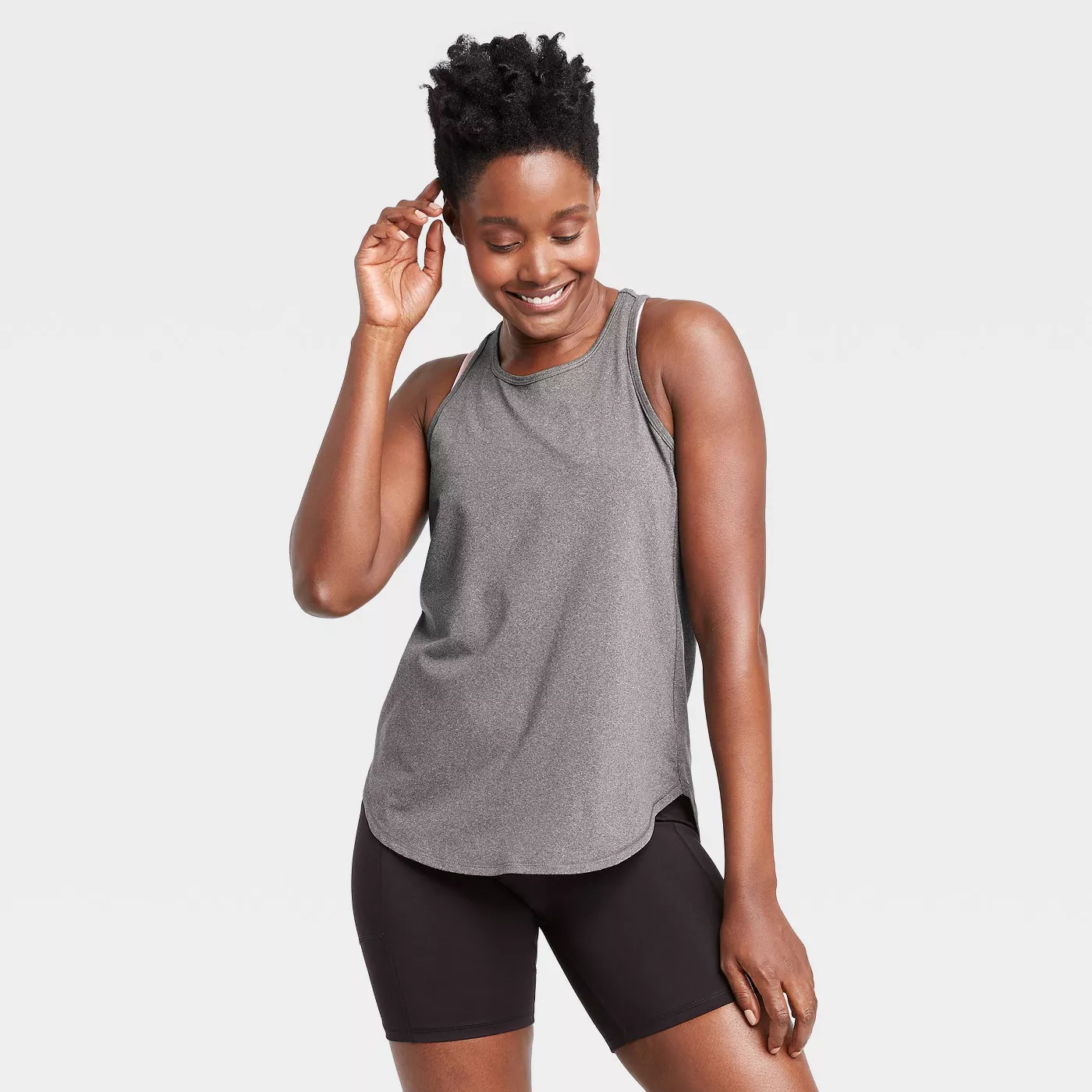 Bras
A note on the sports bras. The sizing kind of baffles me. Some are in small/medium/large type sizing, and high-impact ones are (mostly) typical band and cup size. The ones that come in standard sizing have really weird availability. No band sizes smaller than 34, no cup sizes smaller than A, and the DD cups are only available in plus sizes (band 40+). And the plus sizes only go down to a C-cup. Basically what I'm saying is, if you typically have trouble finding the right bra size, you can safely skip this line altogether, at least at the current size options.
High Support Bonded Bra – $30
This was the only high-impact bra that came in a size that might fit me. I'm normally a 30D. It actually would be comfortable as an everyday bra, but felt like it would shift around and chafe during any actual workout. Small is the smallest size available, so it's a no-go for me. Also, the strap adjustments are a weird hook/loop system instead of a slide buckle. That probably would keep the straps more secure during exercise, but they're pretty annoying to adjust. I do like that it doesn't come with those annoying removable cup pads.
Did I buy it? No.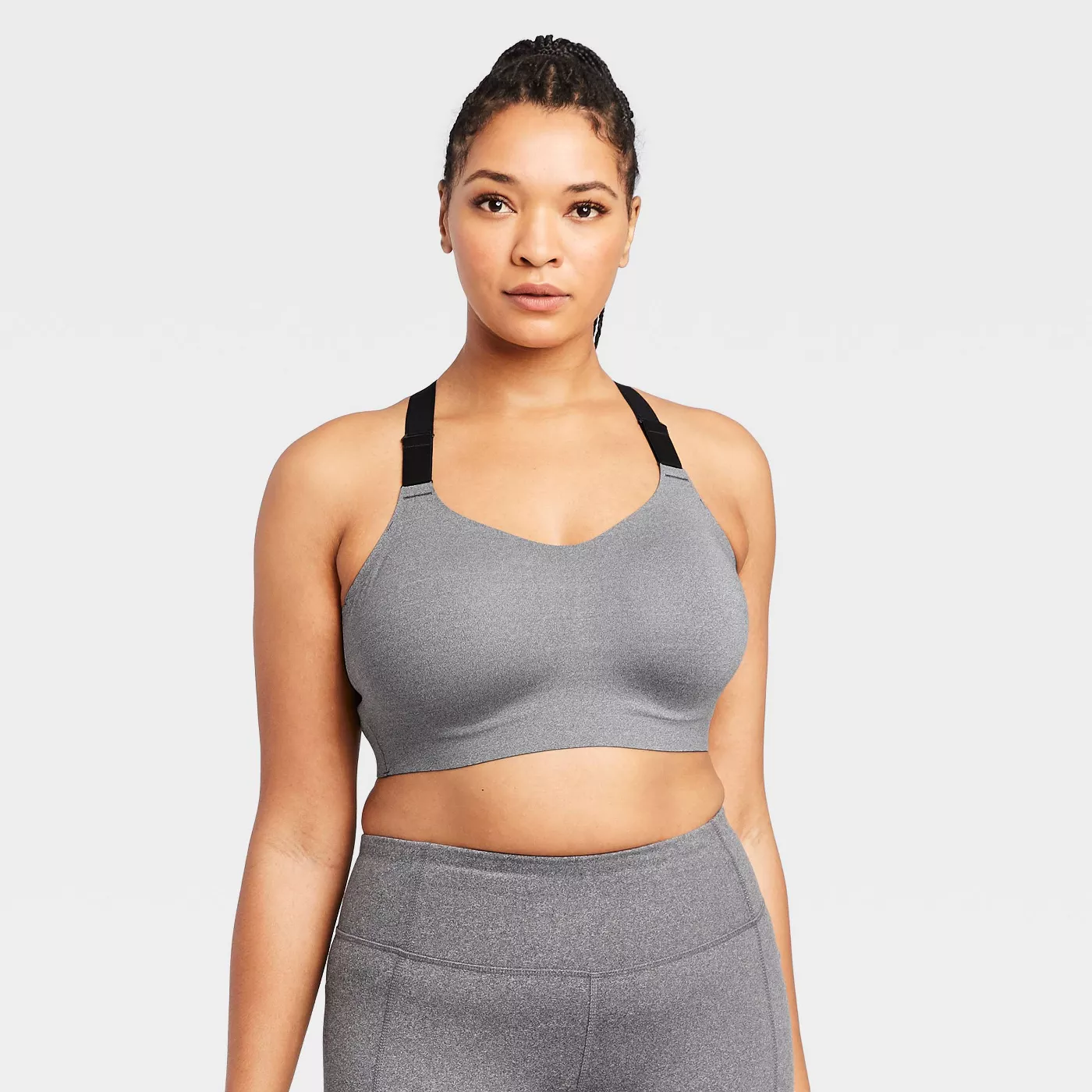 Low Support Perforated Seamless Bra – $20
Also in letter sizing, this bra has the classic problem of being super boob-flattening if you happen to have a smaller band size. It also has a weird quasi-criscross back with slide buckle straps. The straps feel too thin, and I could feel the slide buckles even without a shirt on. It has removable cup padding. To be completely honest, I don't know why this bra even exists. I hated everything about it.
Did I buy it? No.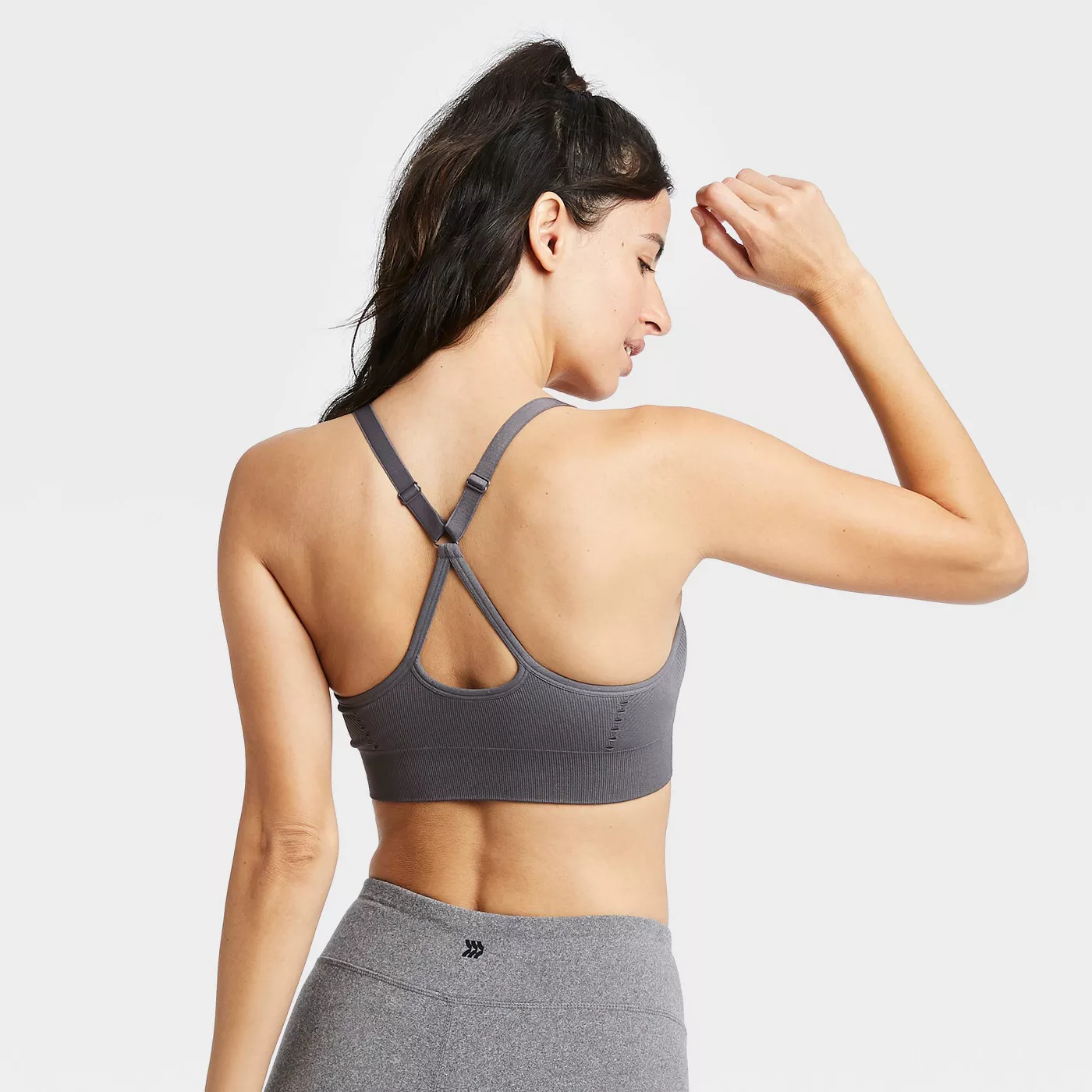 Medium Support Seamless Racerback Bra – $16
The seamless racerback had the same sizing issue as the last one (boob-smashage), but at least was comfortable otherwise. It does come with the removable cup pads that always seem to bunch up in the wash (I promptly remove them in any bra I get). But overall I'd say it's pretty decent if you can find a size that fits.
Did I buy it? No.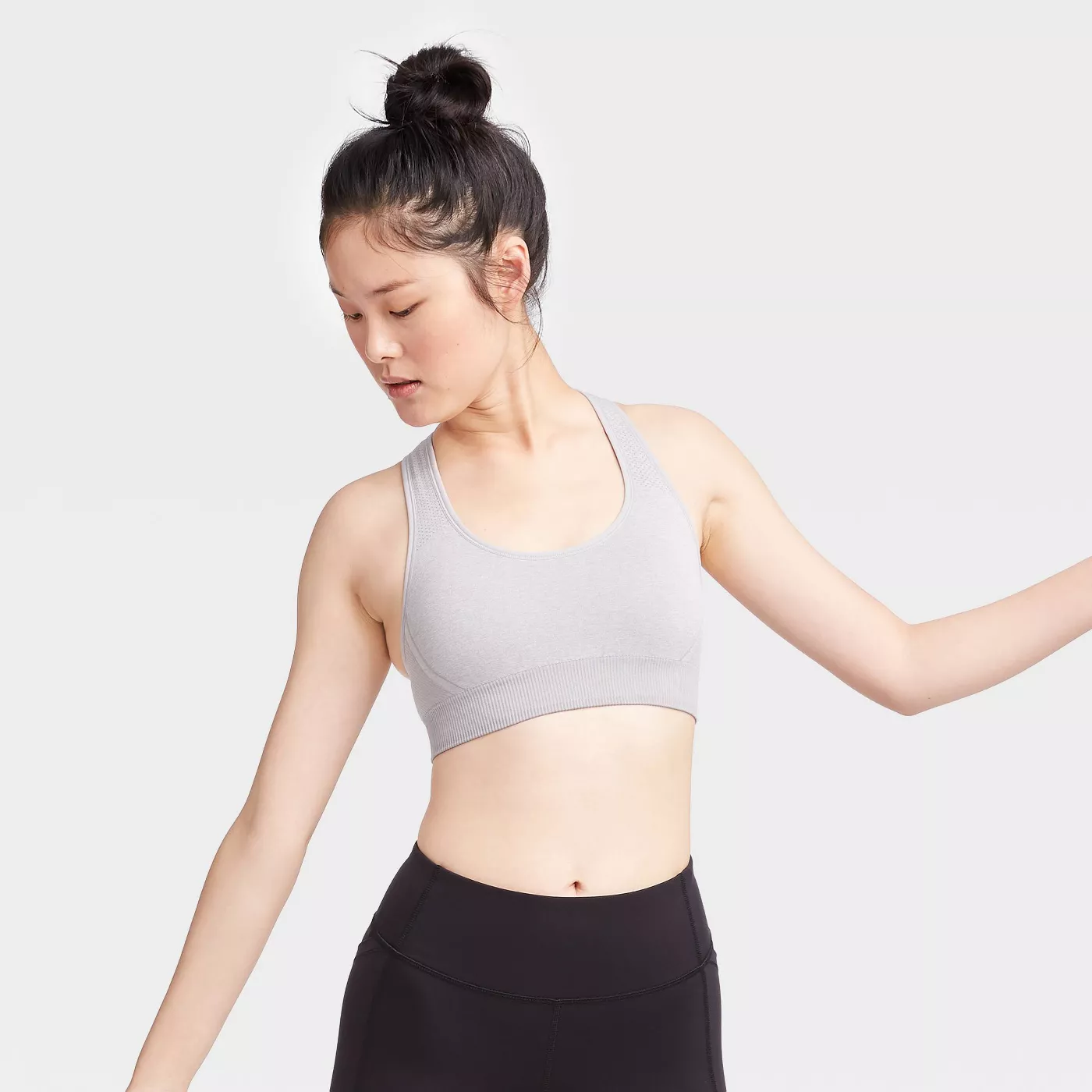 Medium Support Bonded Racerback Bra – $20
With the bonded racerback, now, the fabric seems to be a little more forgiving. The band on the small size is a really good fit even if the cup is a little more flattening than I'd prefer. I liked the smooth feel of the fabric. Again, removable padding. The so-called red color is really more like a coral.
Did I buy it? Yes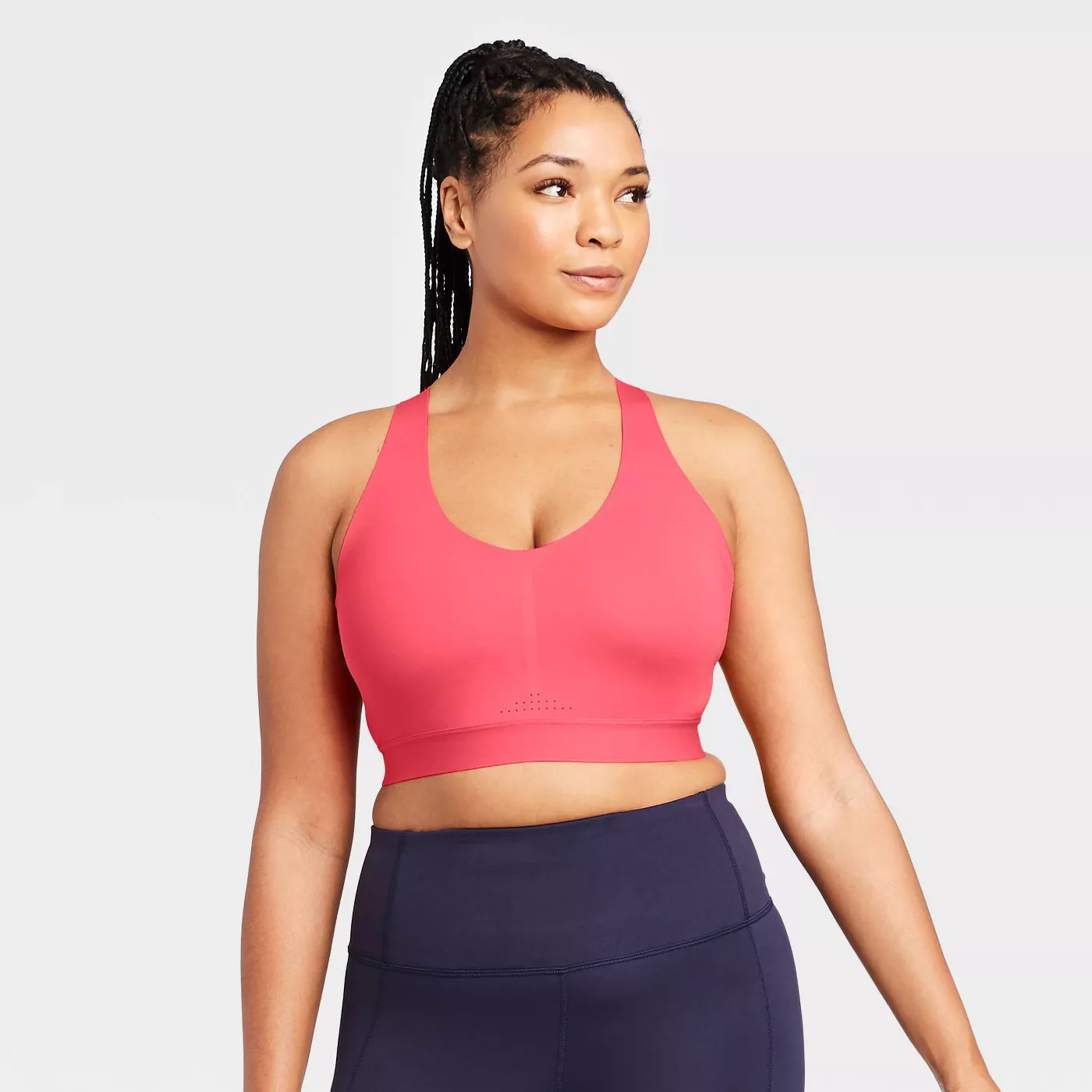 Leggings
Contour Power Waist High-Rise Textured Capri – $28
These leggings were a complete fail for me. I thought the thicker fabric might be nice for cool weather, but the short inseam is less than ideal (they do make a longer version though). The fit was the bigger issue though – snug in the legs, loose in the waist, with weird bunching around the crotch. Nothing about them was comfortable or flattering.
Did I buy it? No.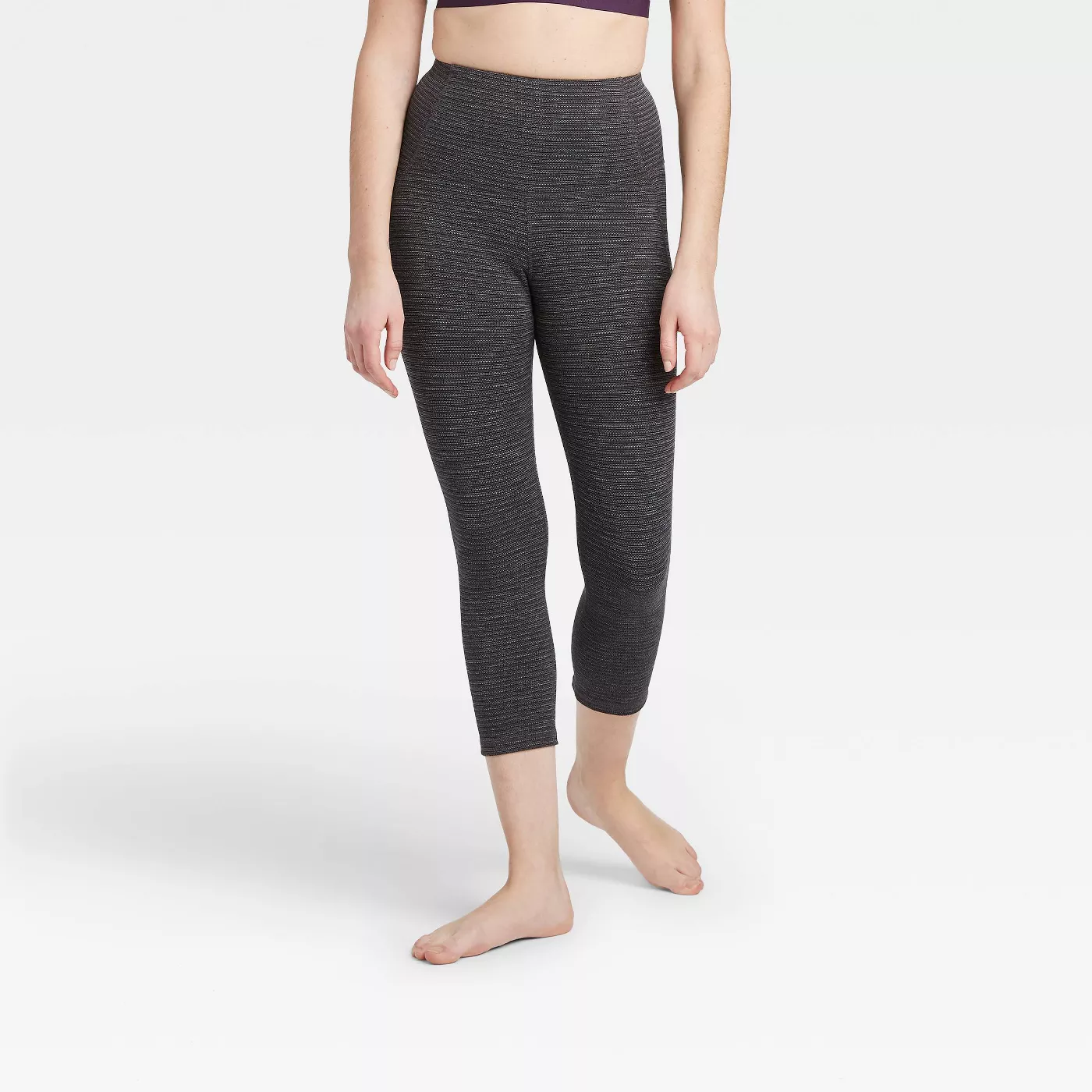 Contour Power Waist High-Rise 7/8 Leggings – $28
Once again, I was less than thrilled with the fit of these leggings. They had the same bunching at the crotch, plus the shiny fabric and unfortunately-placed seam give the appearance of camel toe where there really isn't any. I tried them in small and medium, and both sizes had the same issue, the medium just felt looser at the waist. I love the color though.
Did I buy it? No.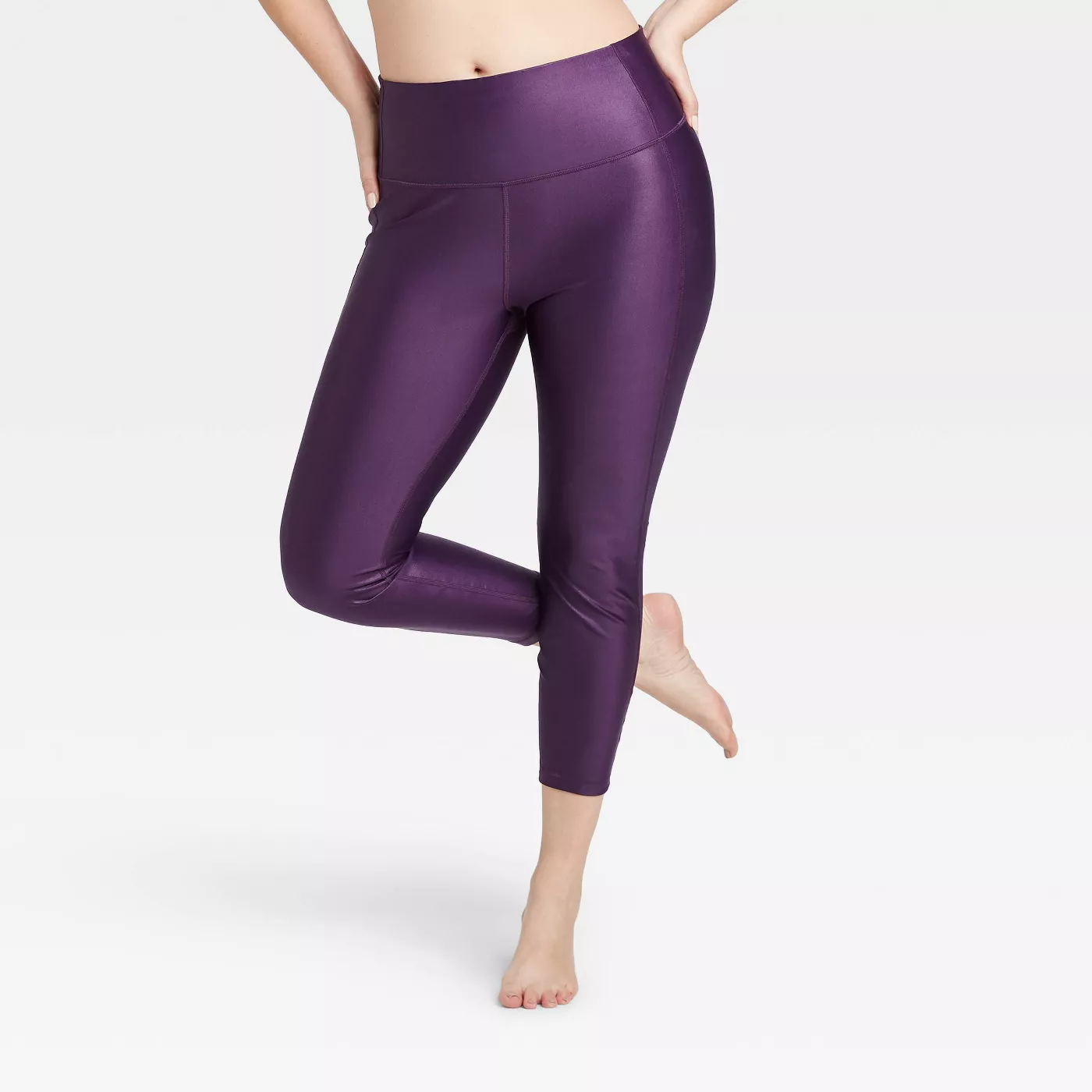 Premium Ultra High-Rise 7/8 Leggings – $40
Well, bonus points for truth in advertising, I guess. These absolutely lived up to the 'ultra high-rise' name. Great if you're wearing a crop top/bra and want more coverage, but the top did roll down if I bent over. Aside from that, the fit actually is a lot better, though a small probably would have been a better size for me.
Did I buy it? No.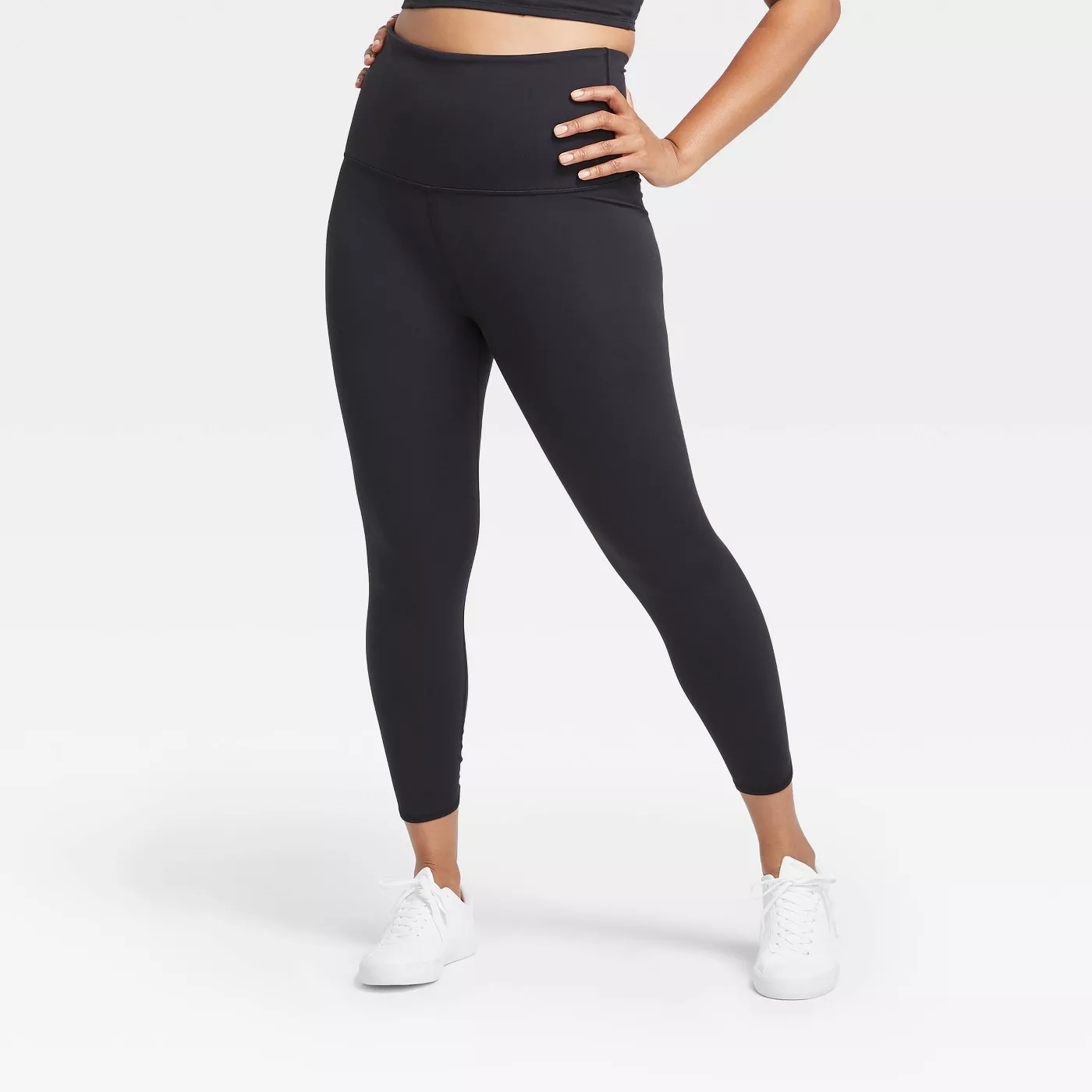 Shorts
Contour Power Waist High-Rise Shorts 4″ – $16
These might be the perfect yoga shorts. High enough for some tummy coverage, long and tight enough to cover all the delicate bits, and the fabric feels sturdy too. More testing is needed, but they didn't roll or move around from doing just a few forward folds and squats. I'm curious to see how they might do for running, too. Amazingly, they don't seem to cut into my skin at the hems, which is unusual for me with tight-fitting shorts.
Did I buy it? Yes.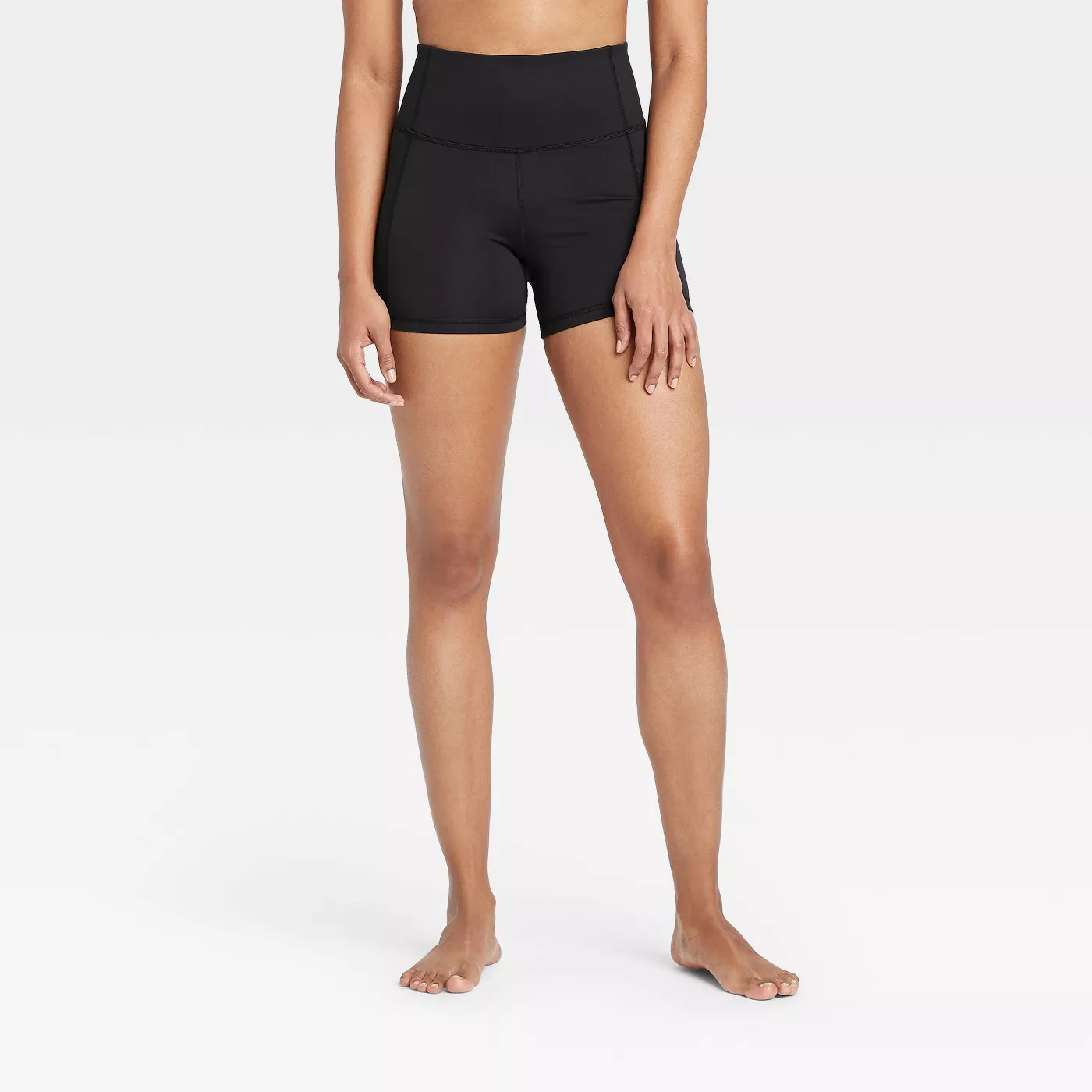 Mid-Rise Run Shorts 3″ – $18
Pretty standard loose-with-a-liner run shorts here. There are some nice touches, though. First and foremost, I love that the waistband is wider than most shorts in this style. I think it's more comfortable, and it's more flattering for those times when I'm running in just a sports bra in the summer. The inseam is just long enough that it feels like it won't chafe, though only time will tell if it rides up during a run. The reflective detailing is actually placed low enough to not be covered by the hem of my shirt, so that's a major perk too.
Did I buy it? Yes.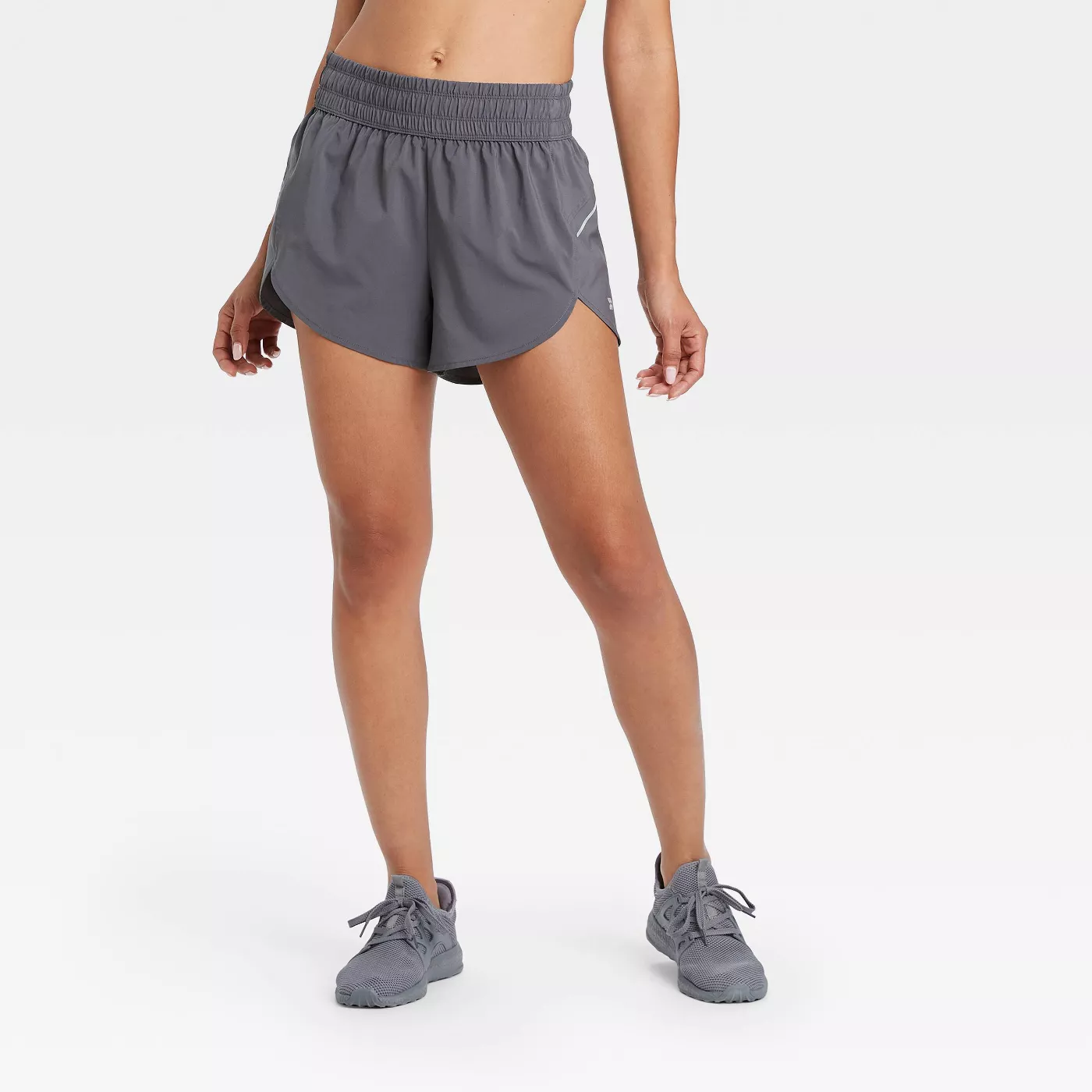 Recap
I went into my little shopping excursion with high hopes, but I went home feeling a little let down. If I had to boil down the entire line to a couple bullet points, they'd be:
Good construction and fabric quality
Weird fits and sizing
Overall it seems to me like you'll get really good bang for your buck with this brand – assuming the cuts and sizes work for you. For me, it didn't solve any of the common fit issues that I usually have, which was a disappointment.
Have you tried All in Motion yet? Or is there another affordable activewear brand you swear by?